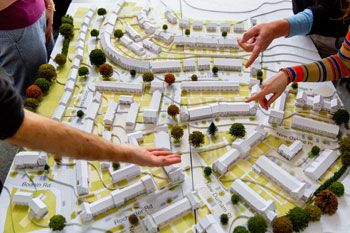 Estate regeneration requires careful and sensitive consideration with close involvement of people living in these areas. Recent work in Somerset has shown how this approach can deliver better outcomes for everyone.
For those leading estate regeneration projects, there are expectations that residents should, quite rightly, be involved in shaping them.
The London mayor has highlighted the importance of this in its recent directive around offering tenants a ballot for major regeneration proposals. Building trust between residents, stakeholders and the councils involved in this work is key its success.
We have seen this in work involving local authorities on estate regeneration projects across the South West. One such example is in Taunton, Somerset, where the local authority is leading on a regeneration project in Priorswood.
Taunton Deane Borough Council wanted to work with residents and the wider community on an agreed approach to addressing the structural issues involving 212 Woolaway properties in Priorswood. This has been described by the council as the most significant engagement project that has ever taken place in the town and an exemplar for future projects.
Priorswood has one of the largest numbers of Woolaway houses in north Taunton, built at the end of the Second World War following a serious housing shortage. Built with a pre-cast concrete structure and reinforced steel, they can suffer from corrosion due to water getting through the concrete columns and disturbance to other structural support.
Added to that, the design of the homes means access can be difficult, there is noise transfer between rooms and other homes and they are harder to keep warm than modern houses.
Resident-led design
The choice of refurbishment or replacement of people's homes, meaning many residents would have to temporarily move out, was always going to be emotive and difficult. It was important, therefore, that residents were part of the design and decision-making process.
An 18-month programme of events and extensive community consultation allowed the project team to generate a design which was deliverable and addressed the community's and council's aims of providing new and refurbished houses.
Crucially, a Residents' Design Group made up of 25 people across all age groups was set up to voice the neighbourhood's needs and aspirations. Many group members were unfamiliar with layout drawings, terminology, and technical aspects such as site constraints, the planning process and highways standards. So, the process was made accessible and understandable by explaining ideas through sketches. Training was provided at an early stage to enable to move forward. This empowered members to engage in technical discussions and share learning with the wider community over an 18-month period.
Using information gathered from one-to-one consultations with more than 90% of residents, the Design Group was helped to develop house types. By working with residents as part of a community and consultation-focused approach, the project team discussed different solutions to addressing the Woolaway issues and regenerate the local community.
Members commented on the proposed layout and house designs throughout the process and changes to the masterplan and houses were made, even though some had an impact on the number of new homes that could be delivered. For example, an open space was added at the heart of the development in response to comments, a road was diverted to make it safer for pedestrians and a new community facility was incorporated in the ground floor of the proposed flats. These changes have helped to strike a workable balance which has built up community support and helped the council achieve its objectives for the project.
Delivering better outcomes
The proposals that have emerged include replacing 162 homes, refurbishing 60 homes and providing 60 additional homes, a new open space and a community centre.
The new homes proposed are larger than those on the estate and are designed to national space standards. Accessibility issues have been addressed with a range of part M standards for disabled access. Residents should see a reduction in fuel bills too, thanks to insulation improvements, and there will be additional affordable homes and new shared ownership options to help people to get on the property ladder.
These proposals were approved by the council's planning committee earlier this week (March 27).
But that's not the end of the story.
There has been a significant impact and benefits in doing such a consultation. We learned things along the way, which will help shape future engagement, and we know there will be a positive outcome for this community.
A Residents' Charter has been developed for tenants and homeowners and residents have since set up their own Regeneration Group since the project, which organises community events to support and raise money for charity.
Throughout our time working with the council, we put ourselves in residents' shoes, taking time to get to know them and understand their individual needs and concerns. Truthful, open and honest engagement has been fundamental in building trust. Those who are leading regeneration projects will reap the benefits of engagement that puts the community firmly at the centre of this work.
Amanda Taylor is Urban Design Director at Nash Partnership.