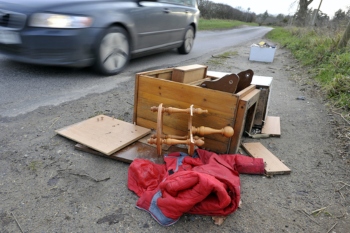 Waste-related crime is costing the country an estimated £1bn a year, a new report has found.
The Environmental Services Association (ESA) found waste-related in crime in England had increased by 53% in the past three years, costing more than £924m in 2018/19.
It warns that if the data for England is scaled and applied to Scotland, Wales and Northern Ireland, the estimated cost to the UK rises will above a billion pounds.
The report, undertaken by Eunomia Research & Consulting, shows fly-tipping and the operation of illegal waste sites are the most costly forms of waste crime.
Gavin Graveson, chair of the ESA, said: 'Waste criminals are exploiting a lack of public awareness and lack of regulatory oversight in this area, which has led to an increase in fly-tipping and illegal waste sites that contribute significantly to the overall £924m cost of waste crime in England identified in our report today.
'Successive ESA reports over the past eight years have highlighted the shocking extent of waste crime in the UK and its cost to both the environment and economy. This latest report exposes the unfortunate truth that, despite additional regulatory focus in recent years, the scale of waste crime has significantly worsened.
'Although understandably delayed by the pandemic, it is now vital that the Government proceeds at pace with long promised reforms of the regulatory regime and we must make it much harder for criminals to operate in the recycling and waste sector.'