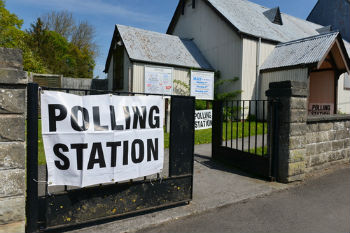 Voters are more concerned with unbalanced media coverage and party donors than ID at polling station, a survey has suggested.
The Electoral Reform Society has pointed to its research suggesting Government plans for mandatory ID checks of voters, as trialled in May's elections, are among the least of the public's concerns.
It comes ahead of this afternoon's (6 June) Westminster Hall debate on the trials.
The survey carried out by BMG Research found the need for identity checks was the second lowest concern of 12 options, chosen by just 4% of respondents.
Ensuring elections are kept free from the influence of financial donors was the top-ranked option, with 17% of people saying it was the most important.
Ensuring the voting register had no fraudulent entries was second with 16%, followed by balanced media coverage chosen by 13% of respondents.
Ensuring constituency boundaries are free from political influence was the lowest ranked issue on 3%.
May's local election trial saw poll station staff in Bromley, Gosport, Swindon, Woking and Watford asking voters for ID.
Almost 700 people were turned away as a result, with just under half not returning to cast their vote.
Jess Garland, director of research at the Electoral Reform Society, claimed it was a 'red herring' that distracted from more pressing issues.
She said: 'Voters know where the real problems are in our democracy – not in the handful of voter fraud cases each year, but in a broken Westminster system.
'The government's draconian ID scheme unfairly places all the burden on blameless voters – rather than the government – to ensure we have an effective and transparent political system.
'Instead, we need to be looking at the bigger issues – like the fact that one in five feel forced to vote "tactically" at elections rather than for their first choice, that there is a spending arms race when it comes to our elections, and that our voter registration system needs hauling into the 21st century.'
The Electoral Reform Society has said it has seen legal opinion claiming the ID trials held in May could have been illegal, with ministers acting beyond their lawful powers.