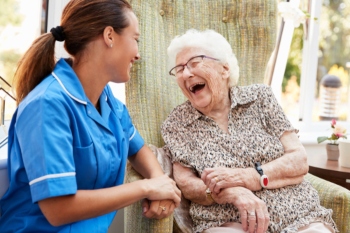 Health leaders have been left divided by the Government's announcement that fully vaccinated social care staff and NHS workers who have been told to self-isolate will be allowed to continue working.
The Department of Health and Social Care (DHSC) introduced the measure today as part of the effort to alleviate pressure on services. The change applies only to frontline NHS and social care staff where their absence may lead to what the DHSC describes as 'significant risk of harm'.
'As we learn to live with this virus, it's important that we ensure frontline staff can keep providing the best possible care and support to people up and down the country,' said health secretary Sajid Javid.
'The Government has backed healthcare services at every turn through this global pandemic and these new rules will fortify our collective defences against this awful virus, by allowing fully vaccinated frontline NHS and social care staff to continue to work when needed.'
The new guidance will include staff who have been contacted as a close contact of a case of COVID-19 by NHS Test and Trace or advised to self-isolate by the NHS COVID-19 app.
Staff members will only be allowed to work after having a negative PCR test. They will also be required to take daily negative lateral flow tests for a minimum of seven days and up to 10 days or completion of the identified self-isolation period.
'With the number of cases continuing to rise, it is imperative that we do everything we can to manage this virus and support our NHS and social care services under the strain of increased demand and sustained pressure,' said UK Health Security Agency chief executive, Jenny Harries.
'We have provided specific guidance to NHS and social care settings for circumstances where there is a significant risk to health or safety resulting from staff absence or a critical service cannot run.
'This measure only applies to double vaccinated staff, who will only be able to attend work after testing negative on PCR and daily lateral flow tests, and following a risk assessment and the supervision of the health service.'
Staff who are permitted to attend work will remain under a legal duty to self-isolate as a close contact when not at work.
Health leaders and union representatives have voiced their concerns at the change in self-isolation rules.
Danny Mortimer, chief executive of NHS Employers and deputy chief executive of the NHS Confederation, acknowledged that health leaders are concerned about staff shortages as staff take overdue annual leave.
However, he stressed that the 'need for local review and discretion here is important' because health leaders do not want to expose colleagues and patients to COVID-19.
'Despite the success of the ongoing vaccination programme, the pandemic still presents a very real risk to the nation and so, while the Government seeks to give the NHS more fire power to respond to its various challenges with this new measure, there are things all of us can do to keep ourselves and those around us safe,' he said.
The union GMB was more critical of the Government's decision.
Rachel Harrison, GMB national officer, commented: 'Our NHS and ambulance service are operating under extreme pressures with chronic staff shortages, fatigue and exhaustion.
'Yet today - the "Government's so called Freedom Day - they have had to issue exemptions for staff as services struggle to cope with rising cases.
'Ministers have no regard for the welfare of staff at all. That's apparent, as the guidelines only exempt staff from self-isolation to attend work, and not outside of work.
'If this is a safe thing to do, why does it also come with the caveat of not being able to work with clinically extremely vulnerable people?
'All of this when NHS workers are burnt out and there is still no announcement on their pay increase which was due in April.'