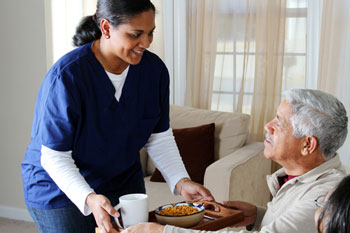 The introduction of an un-costed cap on social care would have 'catastrophic' consequences for local services, county council leaders have warned.
The County Councils Network (CCN) has published a new report calling on the Government to ensure social care in county councils is fully funded in the forthcoming green paper on adult social care.
In 2014, Whitehall proposed the introduction of a £72,000 care cap before postponing it. A cap is expected to by part of the new green paper.
In their new report, Sustainable County Social Care, CCN has warned that the lower the cap is set, the higher the costs for county authorities.
If the Government implements a cap on care at £50,000 per individual, this could cost county authorities collectively £691m a year, they say — double that of a £72,000 cap which was previously put forward.
This would put more pressure on an already over-stretched care system.
County authorities are facing an existing funding black hole of £949m in social care by 2020 and care home providers in these areas are estimating a short-fall of £670m in the fees they receive from councils.
CCN said that an un-costed care cap would push services 'closer to the brink', and lead to fewer residents receiving care and care homes potentially closing.
It would also threaten the financial sustainability of England's largest councils, the report warns.
A CCN survey of county leaders showed that only 33% of leaders were confident in delivering a balanced budget by 2020/21. Many reported the outcome of the green paper was 'pivotal' to dealing with the financial uncertainty facing their councils.
'County areas are withstanding some of the greatest financial and demand-led pressures in delivering and procuring social care services, and have had some of the biggest cuts in core government grants since 2010,' said Cllr David Williams, CCN spokesman for health and social care, and leader of Hertfordshire County Council.
'These pressures will only continue to intensify in the coming years, with counties home to the largest and fastest-growing elderly populations, and they already spend close to half their budgets on social care services.
'Faced with these current pressures, and an elderly population that is projected to increase to unprecedented levels in rural areas, financial reform for the system and protection for individuals from huge costs are necessary.
'That is why we are backing a cap on care cost contributions – but this must be fully-costed for local authorities, otherwise it will have catastrophic consequences as it push under-pressure social care services to the brink of collapse.'