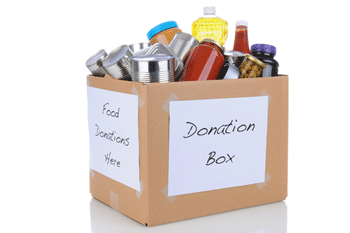 A record one million people received at least three days of emergency help from foodbanks run by the Trussell Trust last year, figures reveal.
Numbers turning to the charity for support rose by 20% in 2014/15 on the previous 12 months, with 396,997 children among those who received multiple days of aid.
Adrian Curtis, UK foodbank director at The Trussell Trust – which runs over 400 foodbanks across the UK – warned that 'significant numbers of men, women and children' were still going hungry despite signs of the economic recovery.
While benefit problems remain the largest driver of foodbank use, the number of referrals due to low income grew to 22% of all referrals last year.
A total of 157,248 people in the north west were given three days of emergency food by the Trussell Trust last year, the highest of any UK region. Over 100,000 people received this level of support in Scotland, the south west, London, the West Midlands and the east of England.
However the actual number of people requiring food support is thought to be far higher, with these figures not including those helped by other charities or those who feel too ashamed to seek help.
Curtis said: 'The Trussell Trust's latest figures highlight how vital it is that we all work to prevent and relieve hunger in the UK. It's crucial that we listen to the experiences of people using foodbanks to truly understand the nature of the problems they face; what people who have gone hungry have to say holds the key to finding the solution.'
Dr John Middleton, vice president of Faculty of Public Health added: 'The rising number of families and individuals who cannot afford to buy sufficient food is a public health issue that we must not ignore.
'UK poverty is already creating massive health issues for people today, and if we do not tackle the root causes of food poverty now we will see it affecting future generations too. The increased burden of managing people's health will only increase if we do not address the drivers of people to food banks.'
Responding to the figures, Trades Union Congress general secretary Frances O'Grady said: 'This should make all of us ashamed, particularly those who claim we have a strong economy and everyone is sharing in the recovery.
'It tells us that the Government has done grave damage to the welfare safety net. Of course we should deal with those who abuse it, but vicious sanctions and benefit cuts – even for those who paid in all their working lives – are destroying the support any of us might need if we lose our job or have an accident.'