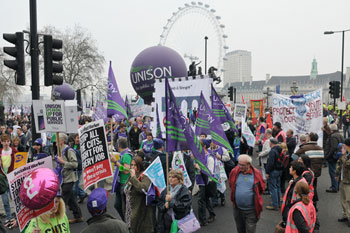 Whitehall's controversial Trade Union Bill passed into law yesterday despite accusations it poses 'a serious threat' to industrial relations.
The Government argues the Bill - now an Act - will modernise unions and ensure strikes will only go ahead when there has been a ballot turnout of at least 50%.
In public services, such as health, education and transport, 40% of eligible members must give their support before industrial action can take place.
Employment minister Nick Boles said: 'These changes will ensure people are only ever disrupted by industrial action when it is supported by a reasonable proportion of union members.
'The Trade Union Act means the rights of the public to go about their lives are fairly balanced with members' ability to strike.'
David Cameron last month backtracked on the most controversial aspect of the Bill.
It initially contained proposals to stop all council staff from paying union fees directly from their wages.
This was dropped after Unison branded it a 'malicious' political manoeuvre designed to starve trade unions of money. It now only applies to new members, and will be phased in.
The TUC welcomed the Government's u-turn, but condemned the Bill as an attack on 'a fundamental British liberty'.
Commenting last Tuesday after the House of Lords' finished debating it, TUC general secretary Frances O'Grady said: 'While we are pleased to have secured significant changes to the Trade Union Bill, it still remains a very bad and divisive bill.
'The history books will show that the government's first major act of this Parliament has been to attack the right to strike – a fundamental British liberty.
'This legislation, even in its amended form, poses a serious threat to good industrial relations and is completely unnecessary.'