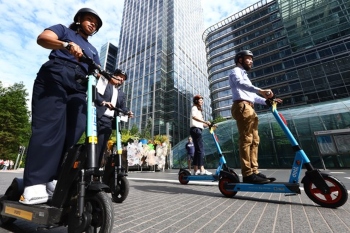 The number of e-scooters available to rent in London is set to double after three more boroughs joined the trial.
The City of London, Lambeth and Southwark have joined the capital's trial of rental e-scooters, increasing the number of vehicles available from around 600 to 1,200?across London.
E-scooters will now be available to rent in the City of London and?northern parts?of Lambeth, while Southwark has joined as a ride-through borough.
Mayor Philip Glanville, chair of London Councils' Transport and Environment Committee, said: 'This latest expansion to include the City of London and parts of Lambeth and Southwark widens London's existing e-scooter network and potentially helps reduce carbon emissions by offering an alternative to car journeys.
'Safety remains the top priority for the trial. We will be looking closely at data and insights as the trial continues to grow to determine whether e-scooters are a viable part of a greener and healthier future for London.'
The rental e-scooters have always-on lights, GPS controlled parking and no-go?zones, with a maximum speed of 12.5mph.