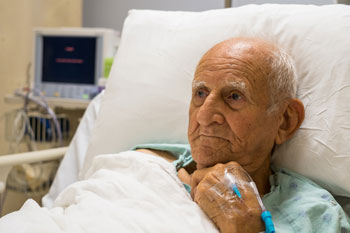 Hospital beds that are supposed to be used only during emergencies and periods of high demand are being utilised for routine care, an investigation has revealed.
Freedom of Information requests to hospital trusts by the BMA has found that 3,428 escalation beds were in use across all 134 trusts at the end of winter, with 1,637 of these still in use by 1 May in 80 of the trusts.
'Escalation beds' are supposed to be reserved for emergencies and periods of high demand only.
'The use of escalation beds is a sign that trusts are at a critical stage and are unable to cope with demand with their current bed stock,' said BMA consultants committee chair Rob Harwood.
The BMA has previously said that an extra 10,000 beds need to be found if the health service is to be able to guarantee year-round safe care
'Some hospitals are forced to designate their theatre recovery beds as "escalation", resulting in elective surgical operations being cancelled as there is no space for those patients who need immediate care after their surgery,' continued Mr Harwood.
'I have heard of other cases where beds in day procedure units – surgical units for patients who can have their operation and return home on the same day – are used as escalation spaces for admitting patients for longer ward-style care, meaning healthcare staff cannot continue with routine day care surgical cases.
'Most worryingly, the intense pressure on beds can result in patients being placed on beds in corridors or in bits of other facilities, sometimes cramping treatment areas and causing unacceptable stress to the patient and their families.
'It is obvious in these circumstances that there are also not enough staff to cope with the number of people coming through the hospital's doors.'
The BMA's investigation also found that the highest use of escalation beds per trust was in the East Midlands, while London used the most escalation beds as a proportion of total beds.
'It cannot be right that the NHS is having to use these measures almost permanently, especially when the BMA, other leading healthcare bodies and patient groups have offered solutions,' Mr Harwood added.
Responding to the findings, Jonathan Ashworth MP, Labour's Shadow Health Secretary, said: 'The use of escalation beds is yet another sign that hospitals are struggling to cope under continued pressure. We know this is compromising patient care.
'The Tories and, in Coalition, the Lib Dems have run down the NHS and imposed the biggest funding squeeze in its history.
'Ministers should be ashamed that years of cuts to beds, to social care and to funding have led to some of the worst bed occupancy rates in hospitals.'