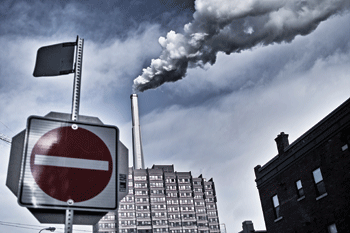 The past 12 months have been significant in the fight against toxic air. So far we have seen the publication of the Government's Clean Air Strategy, the introduction of the first Ultra Low Emission Zone and organisations across the world committing to positive change. These developments have led to an increased public awareness of air pollution, and the devastating impact it is having on our physical and mental wellbeing.
In turn, there is an even greater expectation for everyone to help reduce the levels of pollutants in the air. As we outlined in our recent whitepaper on Clean Air, local authorities can play a leading role in making that happen.
Emission impossible begins at home
The issue of air quality is intrinsically linked to our how we live our lives – in short, the homes in which we live and the transport sources we use to get about. With around 17 million homes still struggling to meet C-rated energy efficiency standards and gas boilers almost the default option for domestic heating, every time we switch the heating on we draw on energy provided more often than not, by fossil fuels. These daily occurrences are therefore a contributor to the high levels of air pollution across the UK.
Local authorities can influence the energy efficiency of housing stock and reduce that contribution. For larger, ageing buildings, there are solutions such as air source heat pumps that can be retro-fitted to provide an alternative to coal and gas. Acting like a fridge in reverse, these thermal heat exchanges draw energy from the surrounding environment – air, ground or even water – and often provide around three times more heat for each unit of energy used to power it.
Indeed, the capabilities of air source heat pumps are so compelling that they can just as easily be applied to new homes. The 2019 Spring Statement set out the Government's intention to introduce a 2025 Future Homes Standard which would prevent new homes being connected to the gas grid. Heat pumps will play a key role in helping housing developers comply with this standard.
District heating networks are another way that local authorities and housing associations can improve energy efficiency in new homes. In this model, heat is produced in localised hubs or energy centres and sent via super-insulated pipes to single apartment blocks, a network of local buildings, or even an entire community. Production at scale is more efficient and, in some circumstances, heat can be captured from industrial and commercial processes, avoiding waste and the need for first-use generation.
The direction of travel
Transport is a major contributor to poor air quality and responsible for around one third of the UK's carbon emissions. More than half of NOx emissions in the UK come from transport, mainly road traffic exhausts, and around a fifth of fine particulate matter is transport-derived. A shift is clearly required towards greener options.
A switch to electric cars will have a sizeable impact, but challenges around vehicle technology, so-called 'range anxiety' and the scope of a national charging infrastructure are beyond the remit of local authorities. Instead, a focus should be placed on moving people out of cars altogether, so that they walk more, cycle more and use public transport more.
Inspiration can be found in Scandinavia. Copenhagen aims to become the world's best cycling city and the local authority has introduced policies to reduce the need for private car ownership and promote the use of bikes. For example, residential developments are required to have 2.5 bike parking spaces per 100 square metres, and the city currently has over 469km of cycle paths to facilitate getting around.
As a result of these measures, cycling is on the up, with 41% of trips into the city by workers and those who live outside now being taken by bicycle.
Making air quality your business
There are 4.2 million businesses registered with Companies House and each of them can contribute to better air quality. In this instance, local authorities have a role to champion best practice and act as a catalyst for change.
Measures that businesses can put in place range from the simple to the complex. On the simpler end, appointing an internal 'energy champion' can help to monitor and reduce energy usage, and to promote better behaviours in staff such as cycling to work or taking public transport. As an extension to this, larger businesses – including local councils with their own commercial premises – can install a Building Management System (BMS). This technology will equip building managers (and energy champions) with a unified software interface for controlling an office block's mechanical equipment, including lighting, power systems, ventilation, air conditioning, and heating.
Let's clear the air together Younger generations have put us on notice that they will hold us responsible for the environmental crises they face. Air pollution is, in our view, the most pressing problem to address.
Local authorities are a crucial part of the solution. And by working with central Government, the business community, consumers and the energy industry, we can clear the air for good.
Michael Lewis is UK chief executive of E.ON