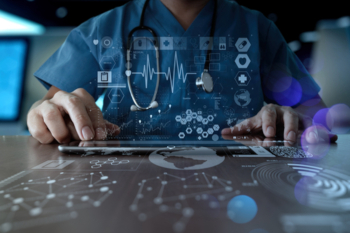 We are at a pivotal crossroads for the NHS and social care and how it approaches its long-term challenges. The NHS Long Term Plan sets out an ambition that digitally-enabled care will go mainstream across the NHS. What are the key digital technology trends and how will it help citizens, clinicians and staff to improve health and care outcomes? Keiron Salt offers some answers.
Technology provides the ability to personalise vast amounts of information and knowledge about an individual and enables care decisions to be delivered and tailored to that individual and become truly citizen centric. So what are the key technology enablers?
The smartphone and mobile devices
The smartphone and mobile devices have revolutionised our lives. They help us run our lives, communicate and access information wherever we are. As the range of wearables and sensors attached to consumer mobile devices become more sophisticated and costs reduce, it has the potential to provide significant insight into long-term health trends through continuous real-time readings. For example, heart rate monitoring can empower citizens to make decisions about their health and prevent illness.
Combining the rich information captured by wearables with the future innovation and machine learning on cloud platforms will provide clinicians with new insight to treat their patients and truly tackle the ambition in the long term NHS plan of 'When ill, people will be increasingly cared for in their own home, with the option for their physiology to be effortlessly monitored by wearable devices'.
Broader adoption of mobile devices for health and social care staff whether in the community or major hospital campus will enable access to vital patient information at the point of care. This information will enhance the carer and patient relationship. It will improve the care decisions for their patients and facilitate collaboration with colleagues. It also improves efficiency as patients' notes and test results are accessible and can be updated wherever and whenever. We have also seen in other sectors efficiencies and quality of service improved by the ability to schedule community based workers according to the citizen's needs, expertise required and location.
Intelligent connectivity and 5G
The mobile device will increasingly become the window onto the cloud. The cloud will have the computational power and the future innovative services deployed. The processing power will be in the cloud and hence the network will become vital to be able to exploit this power.
To be able to harness the cloud, intelligent connectivity (software-defined defined network and network function virtualisation giving greater control over network, applications and security) enables bandwidth for critical applications to be prioritised, provides agility and performance to access cloud services. It gives you greater control of your infrastructure, to make it smarter, faster and safer. It means that solutions are more responsive where specialists collaborating together are able to review high quality MRI scans and X-rays.
A community nurse is able to access key patient information securely and quickly during their rounds. Support staff are able to access Office365 that is responsive and reliable.
Future 5G coverage will provide a truly transformational capability where mobile and fixed networks will converge with compute power and machine learning with significantly more bandwidth and reduced latency. This will truly enable the utilisation of vast computational power on the cloud.
This will enable machine-learning to process highly sophisticated personal health readings, scans and DNA over time and predict disease and conditions such as Alzheimer's, Diabetes, heart disease and strokes to drive early intervention and prevention strategies.
Long live the NHS!
In the first of this series of four articles for Health MJ, I described how the NHS is crucial to society in the UK, but also the challenges it faces in order to maintain its high standard of care.
Technology can bring new possibilities such as machine learning to augment the clinical expertise of the NHS and empower citizens to take control of their health.
Effective transformational change goes far beyond technology and must focus on the cultural change and user co-design in order to benefit from the successful adoption of technology. The workforce and citizens must also drive the change and see the benefits and be equipped with the digital skills to utilise the technology.
Dr Eric Topol's recent review demonstrates the NHS is serious about its digital ambitions and addressing the barriers it faces. As the review states: 'Ultimately, embracing and implementing these technologies throughout the NHS, while clearly representing a challenge, is likely to prevent diseases and their complications, and produce an overall improvement in health outcomes.'
Health innovation and technology will bring personalised care, new ways of working and possibilities to address the challenges and help secure the longevity of the NHS in improving the health and care of the UK. After all, we all benefit from a healthy NHS.
Keiron Salt is chief information officer, health, for BT