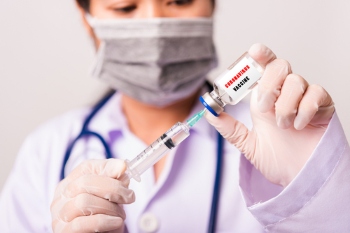 Ten new mass vaccination centres are due to open in England this week with a million over-80s invited to receive the vaccine.
The large-scale centres, which include a rugby ground, racecourse, food court and a cathedral, will open this week, joining the seven already delivering the jab.
People aged 80 or over living up to a 45-minute drive from the 17 centres are also being written to with the option of choosing to arrange a vaccination there or at a pharmacy site through the new national booking service.
'The NHS vaccination programme, the biggest in NHS history, is off to a strong start with more than three million people receiving the life-saving jab, including more than a third of those aged 80 or over,' said Ruth May, chief nursing officer for England.
'We are adding more sites as more vaccine supplies become available, so that people can chose a convenient option, with around a million invites sent over the last week for those aged 80 and over.'
She added: 'Having worked alongside clinicians at my local hospital I know how tough it is for our staff treating an increasing number of seriously ill people with COVID-19 – so I cannot stress enough how important it is that everyone plays their part by practicing social distancing and following the national guidance.'
Responding to the announcement, Local Government Association (LGA) chairman, Cllr James Jamieson, commented: 'Rolling out a vaccine to tens of millions of people is a monumental task, so it is hugely encouraging to see the daily progress on rolling out the vaccine, and councils are in a strong position to support this, working with local health partners using their local knowledge to help ensure our most vulnerable residents are vaccinated as soon as possible.
'The vaccines offer us hope but we must continue to follow the rules as the vaccines are rolled out, including after we have been vaccinated, to bring down the high infection rate and ease the pressure on hospital admission, and ultimately prevent more untimely deaths.'
'If you do not have a GP, be sure to register so you can be contacted to book a vaccination and once you have been, make sure to attend your appointment on time,' he added.