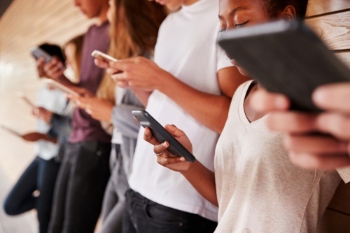 School and college leaders have called on the education secretary to end what they describe as his 'fixation' with banning mobile phones in classrooms.
In response to a Government consultation on student behaviours which characterises mobile phones as 'distracting', the Association of School and College Leaders (ASCL) insisted that teachers already had the use of mobile phones by pupils under control.
Julie McCulloch, director of policy at ASCL, said secretary of state for education Gavin Williamson's view on mobile phones was 'outdated and out of touch' with the reality in schools and colleges.
'School and college leaders are slightly mystified about the Education Secretary's fixation with banning mobile phones in classrooms because they have been dealing with the practicalities of this issue for many years now,' she said.
'Many already ask students to keep phones in their bags during the academic day and others have positive policies in place that allow young people to make limited use of their phones to aid their learning or capture important information.
'For other learners a mobile phone is an essential safety measure, especially children in the care system, and for young carers a mobile phone might be needed to provide essential support to parents.'
Defending the focus on mobile phones, a spokesperson for the Department for Education said: 'Mobile phones can be distracting if used in the classroom, but when misused or overused, they can have a damaging effect on a pupil's mental health and wellbeing.
'Looking at how schools and colleges are making the day mobile-free is just one part of our behaviour call for evidence, which asked teachers and school leaders about a range of ways to help students focus on their education and create calmer schools – which is especially important due to the impact of the pandemic.'