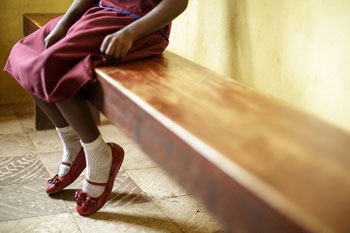 The Government body tasked with publishing medical data recently released its first ever annual statistics of Female Genital Mutilation (FGM) cases in England. The Health and Social Care Information Centre (HSCIC) - now NHS Digital - revealed there were 5,700 newly recorded cases of FGM reported during 2015-16.
Given its apparent prevalence, it is crucial frontline staff - including nurses, doctors, social care workers, and others likely to come into contact with those at risk - are equipped with the facts. I spoke with Michelle Lee Izu, national director for Barnardo's' Projects-FGM, to learn more.
'Talking about FGM is often seen as a taboo, and the stigma surrounding it prevents many from seeking help,' Ms Lee Izu explains. The taboo nature of the topic is one of the major hurdles facing victims of FGM and those responsible for helping them. It also creates a vacuum of information - a vacuum frequently filled with myths and ideologically-driven falsehoods.
This is where the National FGM Centre, a partnership between Barnardo's and the Local Government Association (LGA), comes in. Its aim is 'to end new cases of FGM for women and girls living in England within the next 15 years', an ambitious target they hope to achieve through education and by offering support to those who need it.
The World Health Organisation (WHO) defines FGM as 'all procedures that involve partial or total removal of the external female genitalia, or other injury to the female genital organs for non-medical reasons.' It is mostly carried out on young girls ranging from babies into adolescence, and is - unquestionably - child abuse.
It is shockingly widespread. Most prevalent in 30 countries in Africa, the Middle East and Asia, globalisation means it is also carried out within some immigrant communities in Europe and America. The WHO estimates more than 200 million girls and women alive today have been cut, and it also warns three million girls per year are at risk.
The first myth to do away with is that out of the four types of FGM - clitoridectomy, excision, infibulation and other harmful procedures grouped under the fourth type - some are better than others. In reality, all of them could potentially lead to uterus, vaginal and pelvic infections, problems with menstruation and child birth, and sometimes even death. Psychologically it can have a devastating impact as well, with trauma, flashbacks and psychosexual issues being common.
'Some people believe there are less harmful forms of FGM,' says Ms Lee Izu. 'This is not true. Any form of FGM is child abuse which can have long lasting damaging effects on women and girls' emotional and physical wellbeing.'
Another myth relates to the origins of the abusive practice. In the eyes of many it is associated with Islam. This is incorrect. Yes, a lot of the countries where it is pervasive are majority Muslim, but there are many Muslim countries where it is absent. It's widely practiced in Egypt, for example, but almost non-existent in Saudi Arabia, Iran and Syria. It is also carried out in mixed countries, such as Eritrea where 50% of the population are Christian. 'FGM', Ms Lee Izu emphasises, 'is practised across communities of different faiths and cultural backgrounds.'
It has more to do with the intersection of custom and patriarchy - factors often dressed-up in religious garb and adorned with the deceptive term, 'tradition'. As the National FGM Centre website puts it: 'Many affected communities believe that FGM is a necessary custom to ensure that a girl is accepted within the community and eligible for marriage. Families who practice FGM on girls usually see it as a way of safeguarding their future.'
The human rights organisation Equality Now also emphasises this point. 'Often rationalized as a rite of passage into womanhood,' their website says, 'in reality FGM is an extreme form of violence used to control girls' and women's sexuality. It involves a mixture of cultural, social and religious traditions associated with preparing for adulthood and marriage, and ideals of community, modesty and fidelity.'
'Many girls at risk are young British girls, cut here in the UK,' Ms Lee Izu says. Exact figures of the amount of people affected in this country are hard to come by because of the taboo nature of the topic, but City University London and Equality Now compiled some estimates in their 2015 study Prevalence of Female Genital Mutilation in England and Wales: national and local estimates.
Roughly 103,000 women aged 15-49 with FGM - born in countries in which it is practised - were living in England and Wales in 2011. This was up from 66,000 in 2001. For women aged 50 and over, the figure is closer to 24,000. There are also nearly 10,000 girls aged 0-14 - also born in FGM practising countries - who have undergone or are likely to undergo FGM.
The majority of those affected are concentrated in urban areas. London has by far the highest prevalence rate of women who have undergone FGM at 21.0 per 1,000 population (47.4 per 1,000 in Southwark and 38.9 per 1,000 in Brent), and outside the capital Manchester, Slough, Bristol, Leicester and Birmingham have high prevalence rates, ranging from 12 to 16 per 1,000. In contrast, many predominantly rural areas have prevalences well below one per 1,000.
The amount of people who were actually cut in the UK is relatively small because it is a criminal offence. According to the NHS Digital figures, out of the 5,700 newly recorded cases of FGM reported during 2015-16, 43 of the cases involved women and girls who were born in the United Kingdom and in only 18 cases was the FGM undertaken here.
But this is no reason for complacency. As the figures from Prevalence of Female Genital Mutilation suggest, the practice is widespread enough to cause a lot of devastation to the lives of many women and girls living in the UK. Families, determined to uphold 'tradition', circumvent the law by going abroad in order to inflict the procedure on their children.
It is frontline staff who have to combat FGM. The Serious Crime Act 2015 requires regulated professionals such as teachers, health professionals and social workers to report all known cases of FGM for under 18s to the police. The Children Acts 1989 and 2004 also mean public sector workers have a duty to safeguard children and young people.
Ms Lee Izu sets out a number of things professionals need to be aware of. Firstly, they must understand FGM occurs across communities and so must not focus on just one. 'It's crucial that professionals have a good understanding of the different communities practicing FGM to identify girls at risk of the practice,' she says. 'FGM is a widespread issue, but many services focus on African communities, leaving girls from non-African backgrounds without help and support.'
Understanding family history is also very important. 'Tracing the history of FGM within a girl's family is a good starting point to assess potential risk,' Ms Lee Izu advises. 'For example, the risk is greater when the mother and an older sibling have already undergone FGM. Families who are generally positive towards FGM are also more likely to be in favour of the practice, putting girls in the family at risk.'
However, she cautions, it is crucial for those working with women and girls vulnerable to FGM to be aware that the level of risk to an individual can vary. 'It's vital that front line workers keep in mind that the level of risk to a girl changes throughout the course of her life. Simple every day scenarios such as an older, female family member visiting can quickly raise a child's vulnerability to FGM.'
Identifying those at risk is one thing, but prosecuting those responsible for carrying out FGM is another. The practice has been illegal in the UK for over 30 years after the Prohibition of Female Circumcision Act 1985 passed into law. This was updated in 2004 with the Female Genital Mutilation Act, which included amendments from the Serious Crime Act 2015. These amendments effectively meant that failure to protect a girl from FGM was a criminal offence.
To date there have been no successful prosecutions - a fact a recent Home Affairs Committee described as 'beyond belief'. This is partly because of the taboo nature of the subject and the fact many of the cases are carried out abroad. But it also relates to the young age of the average victim. FGM is perpetrated against children who are either too young to understand what is happening or they are reluctant to testify against family members.
Projects-FGM aims to challenge this. 'It's important that children and young people are encouraged to make disclosures themselves, or on behalf of friends who have confided in them,' Ms Lee Izu tells me. Education is the key here, she says. 'Quality-assured lesson plans on FGM will empower the most vulnerable children to learn about their rights and seek help if they are at risk or have undergone FGM.'
Communication between professionals is also essential for assuring convictions. A lack of communication can be a 'barrier to successful prosecutions' says Ms Lee Izu. 'It's important that concerns are routinely shared among professionals', she explains, 'to ensure that girls at risk are protected and those who carry out the practice can successfully be prosecuted.'
Silence and ignorance, it seems, are the main barriers that require surmounting in the fight against FGM. Thanks to initiatives like Projects-FGM, local authorities have the tools they need to defeat this horrific practice.
Photo: MONUSCO Photos