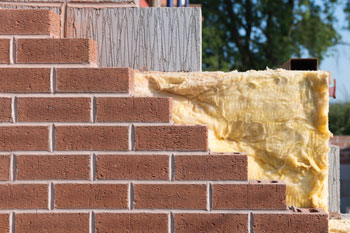 Nearly two-thirds of cavity wall insulation in Northern Ireland's social housing stock fails to comply with current standards, new research has revealed.
The study, carried out by Consultancy, Investigation and Training (CIT), was commissioned by the Housing Executive following concerns about the standard of cavity wall insulation in its own properties.
It found that for the social housing surveyed, 63% had voids and/or debris in the cavity wall insulation, making it non-complaint with current industry standards.
A spokesperson for the Housing Executive said: 'We carried out an extensive programme of insulating cavity walls in the 1980s and 1990s. However, like many other UK social housing providers we have been increasingly concerned by nationwide reports of cavity wall insulation no longer performing as required due to degradation or poor installation.'
The spokesperson said it would focus immediately on those properties that needed urgent remedial work, and would develop a longer term strategy later this year.
The spokesperson added: 'However, such a strategy and plan will have to be prioritised against the many other significant investment needs for our housing stock - such as our Tower Blocks Action Plan, improving the thermal performance of our non-traditional dwellings and addressing the maintenance backlog in external improvements and the replacement of kitchens and bathrooms.'
Rob McCormack, director of CIT, said: 'This research will allow the Housing Executive to use fact-based evidence and robust methodology to assess its remaining housing stock, identify those homes in most urgent need of remediation and efficiently plan maintenance programmes to address the issues identified.'