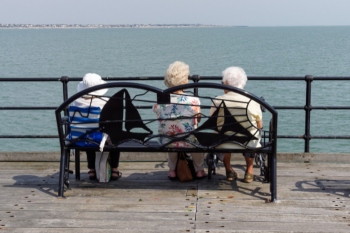 Life expectancy has fallen in many parts of England over the past decade, a new study has revealed.
The research by Imperial College London found that in the five years before the pandemic (2014-2019) life expectancy for women declined in almost one in five communities for women, while it fell for men in one in nine communities.
It found urban areas in the North of England have the lowest life expectancy, while communities with the highest life expectancies were often based in London and the surrounding home counties.
It also found regions that saw declines often already had lower life expectancy, and high levels of poverty, unemployment, and low education.
Senior author, Professor Majid Ezzati from the School of Public Health at Imperial College London, said: 'There has always been an impression in the UK that everyone's health is improving, even if not at the same pace. These data show that longevity has been getting worse for years in large parts of England.
'Declines in life expectancy used to be rare in wealthy countries like the UK, and happened when there were major adversities like wars and pandemics. For such declines to be seen in "normal times" before the pandemic is alarming, and signals ongoing policy failures to tackle poverty and provide adequate social support and health care.'
The researchers are calling on the Government to increase investments in public health and healthcare in communities with lower life expectancy.
Professor Ezzati added: 'To level up health, the Government must make significant investments in people, communities and health services to first reverse this deterioration of health in so many communities.'