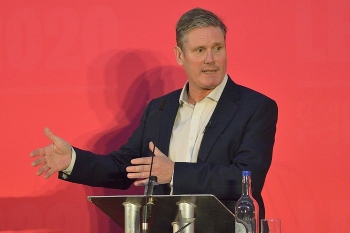 Labour leader Keir Starmer has urged the Government to follow the advice of their scientific advisers and bring in a short lockdown of two or three weeks to slow the spread of COVID-19.
Documents published on Monday night revealed that the Scientific Advisory Group on Emergencies (SAGE), the committee of scientists tasked with advising the Government, recommended on 21 September that the Prime Minister announce a temporary lockdown to get the pandemic under control.
SAGE estimated that the impact of what they called a 'circuit-breaker' lockdown would have had 'similar levels of effectiveness' as the national lockdown that began in March.
The Government rejected the advice as they were concerned about the impact this would have on the economy.
In a statement published yesterday, Mr Starmer called on the Government to follow the SAGE advice and introduce a short, 'circuit-breaker' lockdown.
'The number of COVID cases has quadrupled in the last three weeks,' he said.
'Cases may be doubling as quickly as every 7-8 days. There are now more people in hospital with COVID than on 23 March when we went into national lockdown. And while the number of cases is rising more sharply in some areas it is increasing across all regions of the UK and in all age groups.
'We know from bitter experience and great personal loss where all this leads. Three things are now clear: the Government has not got a credible plan to slow infections. It has lost control of the virus. And it's no longer following the scientific advice.'
Quoting the SAGE documents revealed on Monday, Mr Starmer said: 'They're very clear that: "The more rapidly these interventions are put in place the greater the reduction in COVID-related deaths and the quicker they can be eased."'
The Labour leader stressed that the measures the Government has introduced since the 21 September SAGE meeting, including the three-tier system of restrictions in England announced on Monday, have been and will be ineffective.
'That's why I am calling for a two-to-three week circuit break in England in line with SAGE's recommendation,' he said.
'A temporary set of clear and effective restrictions designed to get the R rate down and reverse the trend of infections and hospital admissions.'
The Government has been contacted for comment. ?