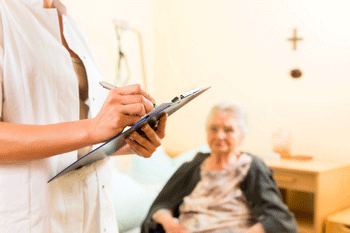 Leaders from the social care sector are urging people to take extra precautions to limit the spread of Omicron in order to protect adult social care services.
The Association of Directors of Adults Social Services (ADASS) has issued a statement describing the rapid spread of the new COVID-19 variant as a 'national emergency' for the already struggling social care system.
ADASS urged people to stay at home as much as possible and to keep social activities and social contacts to a minimum. They also requested that the public support family and check on neighbours who might be in need of support.
'Even before Covid-19 and Omicron, adult social care was struggling with severe funding and workforce challenges,' said ADASS president Stephen Chandler.
'Staff absences due to the rapid spread of Omicron and the need to self-isolate now mean that there are not enough pairs of hands to provide care for everyone who needs it. Every day we are rationing care in ways that we never have before.
'We are making incredibly difficult decisions about who gets care, how much care they get and who misses out – with obvious concerns that this will lead to people becoming isolated and, ultimately, to the loss of lives.'
Mr Chandler said that social care was now facing a national emergency and that the public could help by taking 'small, but important steps.'
'Please stay at home as much as you can, unless you are providing care and support. If you are able, please provide care and support for family members who need it. Take time to check on neighbours and offer any support you can. Volunteer with your local council and charities to assist support efforts. Keep social activities and social contacts to a minimum. And please take up the offer of vaccine and booster jabs as soon as possible.'
'Please play your part in keeping yourselves, your families and your communities safe,' he added.
For more on this topic, visit The MJ (£).