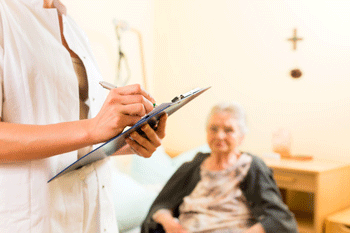 The struggling social care system can be 'rescued' with a funding boost of over £2bn raised from taxing property, an intergenerational commission argues.
The commission, which includes Lord Willetts, TUC general secretary Frances O'Grady and CBI director-general Carolyn Fairbairn, has published its final report on fixing the social contract between Britain's generations.
It emphasises the importance of 'giving older generations the health and care they deserve, need and expect' and, to this end, proposes funding increases for the health and social care system.
The commission's report — the final one of 22 in two years — proposes a £2.3bn NHS levy to put it on a firmer financial footing.
This would be funded by applying National Insurance Contributions to pensioners' earnings and, at a lower rate, to the income of richer pensioners.
Similarly, the report also recommends £2.3bn be injected into the care sector to 'rescue' the social care system.
This could be funded by replacing council tax with a progressive property tax, including deferred payments for asset-rich, income-poor families.
The commission's report also recommends a number of other measures which could help resolve intergenerational tensions including a payment of £10,000 to 25 year olds who wish to get on the housing ladder or start a business.
It also proposes halving stamp duty for first-time buyers and movers, but not for those owning multiple properties.
'Britain's contract between generations lies at the heart of society,' said David Willetts, executive chair of the Resolution Foundation.
'As families we provide for our children and parents at different times. We expect the state to support these natural instincts – but too often it is tilted in the opposite direction.
'Many people no longer believe that Britain is delivering on its obligations to young and old. But our Commission shows how Britain can rise to this challenge.
'From an NHS levy to put healthcare on a firmer financial footing, to building more homes and a Citizen's Inheritance to boost young people's career and housing aspirations, our report shows how a new contract between generations can build a better and more unified Britain.'