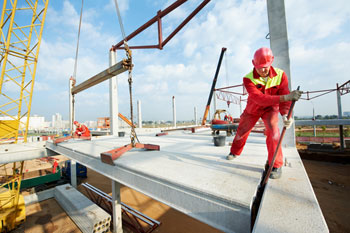 The skills shortage in the construction sector is at 'breaking point' and negatively affecting the quality of public sector projects being delivered, according to a built environment specialist.
A survey of the construction supply chain, carried out by Scape Group, revealed 85% of public sector managers had seen the quality of their built environment projects negatively affected by the skills shortage.
Over a third (35%) of public sector managers felt that the skills shortage was 'bad' or 'severe' in their area and 80% of public sector respondents see the shortage as negatively impacting their ability to keep to budget.
42% of public sector managers highlighted it as one of the biggest barriers to a sustainable supply chain.
The survey, published in the report Sustainability in the Supply Chain, also approached contractors and subcontractors and revealed a vast division between the public and private sector when it comes to how they define a healthy supply chain and what their primary aims are.
Within the private sector, long term operational stability was the core aim (72%), minimising waste and recycling came in second (63%), then supporting local economies (58%).
For the public sector respondents, 70% of those surveyed felt that providing long-term benefits for the local economy should be one of the biggest priorities.
When asked what makes a healthy supply chain, 67% of public sector managers said local skills and suppliers is the most important element. In the private sector, 67% of respondents said stable pricing, while 63% cited stable employment patterns as key.
The survey also asked those taking part about the communication challenges between the public and private sectors. 75% of suppliers believe the public sector needs to do more to engage with its supply chain, and 80% of public sector managers agree.
SMEs responded they found the public sector tendering process particularly difficult, with 51% not feeling well informed about future public sector contracts.
Only 7% of SME suppliers are aware of public sector projects more than 18 months before they can bid for the work, the Scape Group found, and 23% of SMEs would like to know about contract opportunities up to two years before the contract is due to start.
The public sector funds more than a quarter of the business for 64% of contractors and suppliers interviewed. When broken down further, it is clear that SMEs rely more heavily on the public sector, with over a quarter (26%) of companies stating it funded more than 50% of their work.
On this last point, Scape Group's chief executive Mark Robinson, comments: 'Given the current economic uncertainty the £30bn of public sector construction activity is a vital stream of revenue for the sector and early signals from the new government that austerity measures might be eased would be welcomed across the board.'