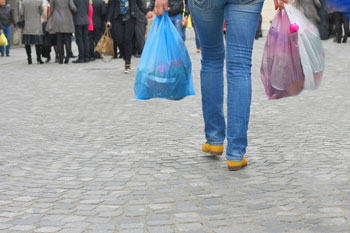 Shoppers are set to take home six billion fewer plastic bags this year as a result of the five pence charge, the Government says.
In the six months since the charge was introduced shoppers have taken home half a billion single-use carrier bags and £29m has been raised for charity.
This is a dramatic decrease on the estimated seven billion bags taken home in 2014.
The charge was introduced in October 2015 to cut down on litter. Around eight million tonnes of plastic gets into the oceans each year and experts estimate it is ingested by 31 species of marine mammals and over 100 species of sea birds.
The six billion bags saved by the policy is the equivalent in weight of roughly 300 blue whales, 300,000 sea turtles or three million pelicans.
'Taking six billion plastic bags out of circulation is fantastic news for all of us,' environment minister Thérèse Coffey said.
'It will mean our precious marine life is safer, our communities are cleaner and future generations won't be saddled with mountains of plastic sat taking hundreds of years to breakdown in landfill sites.
'The 5p charge has clearly been a huge success – not only for our environment but for good causes across the country that have benefitted from an impressive £29m raised.'
Over seven billion carrier bags were issued by seven main retailers in 2014, falling to just over half a billion in the first six months of the 5p charge for single use carrier bags introduced in October 2015.