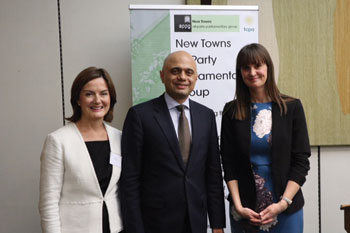 Chaired by Lucy Allan, MP for Telford, the APPG has been set up consider the successes and failures of existing new towns in order to learn from past mistakes and help shape future government policy. The TCPA is providing the secretariat for the APPG, which will involve providing expert knowledge on New Towns and Garden Cities.
The New Towns programme was the most ambitious large-scale town building programme ever undertaken in the UK, providing homes and jobs for over 2.8 million people. As a set of places, they exhibit a range of urban successes and failures, with some among the fastest growing communities in the UK and others among the most deprived.
With the Government supporting a new programme of Garden Cities, Towns and Villages, the APPG will provide a highly influential cross-party forum to learn the lessons – good and bad – of past New Towns to help shape future policy.
Lucy Allan and the secretary of state for housing, Sajid Javid, both spoke passionately about New Towns at a Parliamentary reception to mark the launch of the new APPG on the 17th January 2018. The event was attended by senior government officials, leading planners, urban designers, housing associations and developers, alongside MPs, council leaders and senior officers from New Towns across the country.
Ms Allan said: 'We all share a passion for the vision and ambition that the New Town movement represents, and as the housing crisis continues it is clear that New Towns have an important role to play in Britain's future and in the lives of the next generation seeking to build a better life.
'The APPG will aim to tackle new town challenges such as aging infrastructure, poor private rental housing and connectivity, as well as deprivation, in order to influence future government policy and keep New Towns centre stage.'
Mr Javid said that the APPG could 'count on the government's support', and that he is 'keen to learn from the important work that the APPG will be undertaking: to better understand the challenges and opportunities for New Towns; to consider how can we do more to support these places and their people; and to deliver the next wave of garden towns and villages.'
During his speech, Mr Javid paid tribute to the TCPA's founder: 'Ebenezer Howard's achievements, as an urban planner whose influence can still be felt, both in the UK and abroad, speak for themselves. They are all the more remarkable considering that his day job was as a Hansard short-hand copy-taker right in Parliament. Maybe I need to look a little closer to home for solutions to the housing crisis!
'It is especially pleasing that the TCPA, the organisation founded to promote Howard's ideas, is now working to support the APPG. The association's input, and the history behind it, underlines that the challenges Howard sought to address are just as relevant today – not enough good-quality affordable housing; overcrowding; the belief that everyone deserves to live in a strong, vibrant community.'
For more information about the APPG on New Towns, please visit www.tcpa.org.uk/new-towns or email NewTownsAPPG@tcpa.org.uk
Kate Henderson is chief executive of the Town and Country Planning Association (TCPA)