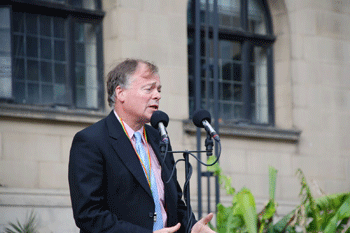 Groups of local authorities should be given a range of tax-raising powers as the first step towards devolution across England, according to MPs.
The communities and local government committee wants to see city-regions take control of business rates, stamp duty and council tax – a move it said would free areas from 'the fiscal grip of Whitehall', leading to more balanced economic growth across the country.
In a new report it calls on the Government to develop a framework for devolution that would see 'significant fiscal powers' released to a small number of areas initially before a gradual roll out.
Areas with combined authorities, such as Manchester, would be at the front of the queue – eventually also being handed greater powers over planning, housing and regeneration, it said.
Authorities taking on significant devolution will need to cover 'recognisable economic areas', it said, and should include counties such as Staffordshire, Warwickshire and Lancashire that have collaborated with cities within their boundaries on City Deals.
'Local areas know best how to stimulate their economies,' said committee chair Clive Betts. 'With a wider range of revenue streams at their disposal, they would be able to invest in infrastructure and projects that mattered locally—without having to rely on or wait for handouts from central Government.
'Local people would then reap the rewards through increased tax take, which could be reinvested in their areas. In the same vein, if local politicians failed to deliver, they wouldn't be able to hide behind Whitehall and Eric Pickles.'
As well as tax raising powers, the committee said the devolution deal should hand local authorities greater flexibility over borrowing.
Mr Betts added: 'The Government should work with groups of local authorities, focused initially on England's large cities, to break the log-jam stopping local areas from shaping their economic destiny. The public might well ask, when Scotland and Wales are being promised ever greater fiscal devolution, why not England? Devolving these powers is the next step on the path to genuine localism.'