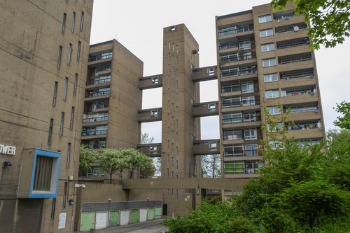 Three-quarters of Scottish adults think there is a shortage of homes for social rent, according to research from a public sector procurement specialist.
Scape Procure Scotland has warned that demand for social rented homes in Scotland dramatically outstrips supply.
Scape's research suggests councils have 42 times more people on housing waiting lists than the number of homes available across the country.
There are 137,100 households currently on council waiting lists and there are just 101 social rented homes available at any one time.
Scape's poll of 1,000 Scottish adults found that almost nine out of 10 (87%) are 'very concerned' about the lack of social rented homes being built in Scotland.
Nearly half (48%) of councils in Scotland are very concerned about the number of social rented homes being built in their area, according to the research.
Scape suggests the problem is that housing associations are not building enough social rented homes.
Since 2000, Registered Social Landlords (RSLs) have built an average of 3,461 social rented homes a year. Last year, the 160 RSLs in Scotland only built 19 homes for social rent each.
RSLs are also costly, according to Scape. The average RSL home costs £130,000 to build, yet in the private sector homes are being delivered for 30% less in England and Wales where building and land costs are higher.
Mark Robinson, Scape Group chief executive, commented: 'Senior officers at local authorities in Scotland are concerned about the pace at which homes for social rent are being built.
'While RSLs manage estates effectively and are vital to regeneration, a reliance on the model is not providing enough homes for social rent. 137,100 households in Scotland are currently on the housing waiting list, at the current rate of construction it will be 33 years until everyone has a home.
'Given the current model is not working, local authorities need sole responsibility for the construction of new homes for social rent.
'The Scottish public sector demonstrated their ability to build at scale during the 1950s and 1960s and local authorities need to be empowered to deliver at this rate again.'