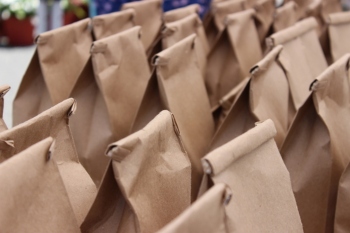 A 'failing' welfare system is forcing families to rely on schools for basic needs such as access to food, academics have said in a new report.
Researchers from UCL Institute of Education Schools said the pandemic has highlighted how schools in areas with high levels of poverty were being asked to address problems relating to food insecurity and housing.
Schools reported having to help children in need of food and clothing, families living in unsuitable for learning, and children experiencing difficult domestic circumstances during the crisis.
Co-author of the report, Professor Alice Bradbury, said: 'Our research shows that the lack of services that support children, particularly Child and Adolescent Mental Health Services (CAMHS) and emergency housing for domestic violence cases, puts schools in the position of first responder, coping with families facing complex challenges.
'Schools are picking up the pieces from a welfare and social services system that no longer provides a real safety net for families. For those schools, the impacts of poverty on children's lives are impossible to ignore.'