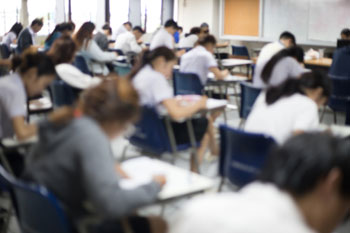 A new study has uncovered an 'alarming' trend of schools excluding pupils to boost their league table standings and warned of a flawed system of incentives in the education sector.
Freedom of Information requests made to all UK councils by the RSA found that more than 1,200 pupils were admitted to Pupil Referral Units in the first term of Year 11 in 2016-17, the last point before a student's exam results count towards a school's performance.
This compares to 763 in the second term of Year 11 and 676 in the last term of Year 10, and suggests schools could be excluding pupils before they count to their exam results.
The RSA says that the gaming of league tables by off-rolling pupils is 'just the tip of the iceberg', and calls for Ofsted grading to reflect the guidance to inspectors to assess the extent to which a school creates an inclusive environment.
'The number of disadvantaged pupils being excluded from school every day is alarming and should prompt urgent action,' said Laura Partridge, associate director at the RSA and report lead author.
'While wider social factors as a result of austerity have played a role, our research shows that the direct and indirect consequences of the accountability system are directly contributing to this rise.
'Pursuing perverse incentives, instead of prioritising quality teacher-pupil relationships, is having a hugely detrimental effect on the life chances of the most vulnerable pupils.
'Many schools are already doing great work, but this is becoming harder and harder to maintain under the current system, which is why Ofsted needs to reward schools that value inclusivity.'
The RSA's report also calls for wider change in the system to focus on inclusive relationships between staff and pupils, especially focused on ensuring good mental health for all.
It recommends that local authorities support initiatives to create multi-agency teams, including representation from Child and Adolescent Mental Health Services, social workers and youth offending teams, that work proactively to support head teachers to meet the needs of pupils.