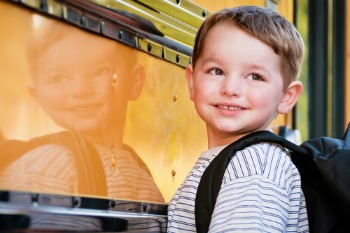 This upcoming school year presents a bigger challenge for all educational organisations, than anyone working in the sector would likely have ever seen, but it's not just schools that are rushing to create a safe environment for students. Travel planning departments and transport heads at local authorities also face a monumental task. How can schools re-open if the children cannot get there in the first place?
Planning departments were already under strain before the pandemic, but with the addition of COVID-19, organising long transport journeys with social distancing in place suddenly felt like a puzzle without a solution. With so much confusion and uncertainty, many councils decided to hold off on creating contingency plans, waiting to see what the advice on home to school travel was from the Department of Education (DfE.) However guidance released on July 2 was vague and only floated suggestions of social bubbles, hand sanitiser on every post and possibly staggered school opening times. All of this was sealed with a promise of more guidance to come.
Are we running out of time?
On August 11, further government guidance, was indeed released on gov.uk, this time specifically around home to school guidance. It was claimed that this would outline how capacity would be managed, however anecdotal feedback from our local government customers tells us that it still does not provide the level of detail required in order for them to safely get students to school and back.
Further to this, the situation is changing rapidly, but the Government remains adamant that schools must reopen. It also looks likely that there will be no further guidance released, perhaps as a step to avoid financial responsibility? As it edges closer to crunch time it's becoming apparent that planning departments need to do the best with they can with their situations and press ahead, regardless of how clear the advice is.
The task of planning rides to and from school, in more normal times, would have been well underway weeks ago, but the flux of the Covid-19 situation caused statis. Many local authorities struggled to make decisions and finalise routes due to complex and time consuming processes.
Plus, there are other things to consider. What the guidance doesn't address are some of the wider challenges. For example, a shortage of drivers is inevitable, as many could be unwilling to resume the work amongst reports of it being a high risk role.
A planning solution to meet complex needs
With all of these obstacles in mind councils should look to consider multiple scenario planning to counter the risks posed by frequently changing guidelines. Route optimisation software automates many of the traditional processes involved with planning the best mode of transport, the best route, as well as distance and pick up locations.
Time is of the essence right now and an effective tool that automatically calculates the best home to school transport options in mere seconds can save hundreds of man hours from current practices, which are often labour intensive and manual. By freeing up time amongst the team it lends extra support to contract management and helping smooth tensions on the ground.
There will also likely be a financial burden that extra planning, and guidance changes will bring. However, these tools can help cut costs, or at the least help to quantify the financial implications of all of the different scenarios that need to be considered with COVID-19, allowing for better budget management.
If you are already using planning software, are you using it to it's greatest potential?
Uncertain times call for collaboration and cooperation
Schools and local authorities (with the statutory responsibility for home-to-school transport) need to work together for successful provision.
The relationship with transport providers also needs nurturing. They may have their own financial challenges and will certainly have concerns over staff safety. It's important to openly communicate the need for flexibility and to work collaboratively with them over last minute legislative changes.
We do not know what this academic year will bring us. One thing is for sure, we can no longer wait for the right answer to come along. Children need support in safely making it to school and back to ensure that they have consistent education. Plans need to be put in place and we must now rely on resources that sit outside of the DfE to do that.
Liz Davidson is chief marketing officer at QRoutes