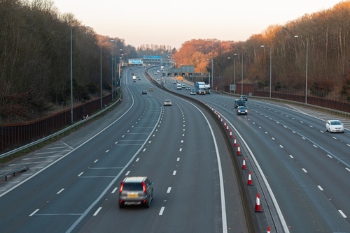 Charging motorists a levy based on the miles they drive would be fairer than taxing fuel and could even help address the cost of living crisis, think tank says.
In a new report, the Social Market Foundation (SMF) said that a new road-pricing system is urgently needed to make transport policy fairer and more fiscally sustainable.
The think tank argues that fuel duty falls disproportionately on lower-income drivers. It also says that the growth in electric vehicles, which do not incur fuel duty, will eventually leave the Treasury with a £30bn gap in tax revenue.
To avert that shortfall, the SMF is urging ministers to replace the fuel duty with a national road pricing regime with a fixed per mile charge.
The scheme could be 'revenue neutral' meaning it raises the same sums as fuel duty, according to SMF, but it would distribute the cost in a fairer way.
The report also makes the case for including a free 'mileage allowance' akin to the tax allowance, meaning low-use drivers would not pay any charge and high-mileage drivers would make a contribution proportionate to their use of the roads.
Scott Corfe, SMF research director, said: 'The current system of fuel duty is unfair, unpopular and unsustainable. A properly designed road-pricing regime will be fair, popular and good for the public finances and the environment. Voters know this, and privately so do the politicians. All that's needed is the political courage to accept that road pricing is inevitable and sensible.
'The costs of driving are a factor in the cost-of-living crisis hitting many households, and fuel duty hits low-income people hardest. Road-pricing would be a progressive alternative, taking some of that burden away from those least able to pay it.'