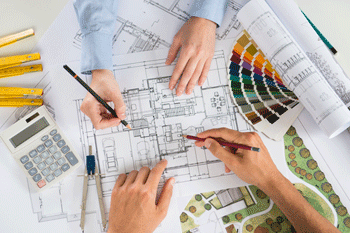 Whitehall has 'not listened' to the concerns of local authorities when it comes to national housing targets, council leaders say.
The Government today published their revised National Planning Policy Framework (NPPF), which, they argue, makes it easier for councils to challenge poor quality and unattractive development in their areas.
The framework sets out a new methodology for councils to calculate the housing need of their local community. This is based on factors such as the affordability of existing homes for people on lower and medium incomes.
The revised NPPF also introduces a Housing Delivery Test, which will come into force in November this year. This measures the number of homes delivered rather than just planned for.
The Local Government Association (LGA) said this test would punish councils when private developers fail to build.
'It is hugely disappointing that the Government has not listened to our concerns about nationally set housing targets, and will introduce a delivery test that punishes communities for homes not built by private developers,' said LGA chairman Lord Porter.
'Councils work hard with communities to get support for good quality housing development locally, and there is a risk these reforms will lead to locally agreed plans being bypassed by national targets.'
'To boost the supply of homes and affordability, it is vital to give councils powers to ensure homes with permission are built, enable all councils to borrow to build, keep 100% of Right to Buy receipts and set discounts locally,' he added.
The District Councils Network (DCN) also emphasised the importance of providing local authorities with more powers.
Cllr Gillian Brown, DCN planning spokesperson, said: 'Whilst the revised NPPF provides some much needed clarity on local plan production and introduces greater transparency in the planning system, it should go even further, to empower local authorities with the powers they need to drive housing growth.
'If the Government expects councils to manage their local housing markets then it's essential that councils are supplied with the need the practical, legal and financial tools to do it.'
Richard Beresford, the chief executive of the National Federation of Builders (NFB), said the new NPPF showed the Government was 'much less ambitious' than it had originally aspired to be.
'Despite some positives, 99% of the construction industry has been overlooked,' he said.
'The Government has missed a golden opportunity to put this country on the road to addressing its housing crisis and solving the broken housing market.'