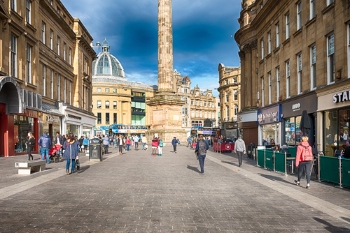 A new report has identified the 'innovative strategies' northern towns can draw on in order to revive struggling town centres.
Published by the national planning and development consultancy, Lichfields, the report found that an estimated 11,000 retail and leisure units vanished from town centres during 2020, including more than 9,000 units belonging to many high-profile brands such as Debenhams and Arcadia's Top Shop and Burtons stores.
The study, titled Moving on up? Levelling-up town centres across Northern England, also highlighted the fact that, as well as the pandemic, retailers continue to face significant challenges, such as the growth in online retail, competition from out-of-town shopping centres, the burden of disproportionate business rates, and changing consumer habits.
Despite these challenges, Lichfields reports that many town centres have been repositioning themselves over the last decade and providing more food and beverage and leisure-based offers to tackle the rise of online shopping.
They found that the £830m Future High Streets Funds is helping to deliver transformative change to struggling high streets, while the £3.6bn Towns Fund is seeing cities, towns and local areas bringing forward imaginative proposals for economic growth. A third stream – High Street Heritage Action Zones – seeks to fuel economic, social and cultural recovery by regenerating historic town centre areas.
The report also identifies a number of strategies being used to attract more people to town centres, such as relocating health and well-being facilities closer to transport hubs and opening more town centre-based education facilities.
Moving on up? Levelling-up town centres across Northern England also looks in depth at three northern towns – Bishop Auckland in County Durham; Warrington in the North West; and Yorkshire's Stocksbridge – to examine how they are rebuilding their town centres.
Jonathan Wallace, director at Lichfields' Newcastle office and the report's lead author, said: 'This is an important publication and comes at a time of seismic change for thousands of struggling town centres.
'However, there are many positives on the horizon and our research points to a strong, vibrant and successful future for those northern towns that take advantage of the funding streams and pursue exciting and innovative strategies designed to transform the heart and soul of our high streets.'
Image: jremes84 / Shutterstock.com