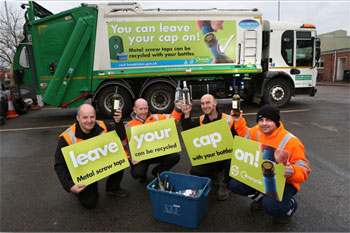 Did you know that 'better services, communications and promotion' improve recycling rates to a greater degree than investment in recycling incentive and reward schemes? That was one of the findings of research undertaken on behalf of the Department for Environment, Food and Rural Affairs (Defra) examining the impact of the government's Reward and Recognition Fund.
The fund allocated around £2m in funding to local authorities and community groups for reward schemes, such as offering Nectar points; but found rewards to have little impact on recycling performance.
Defra's report suggested that improvements in recycling and reuse tended to be linked to the programmes available, and supporting communications and promotion, rather than being directly attributable to rewards for recycling. This supports previous research from the Chartered Institution of Wastes Management (CIWM).
The CIWM report, Waste on the Frontline (2015) said: 'Residents need to be reminded how to use a recycling scheme and why it is important, and this communication needs to happen regularly, particularly if the area has high levels of transience.'
Over the past ten years, councils have achieved a dramatic change in residents' behaviour with most people now happy to separate their household waste for recycling. This success has come as a result of continued investment in recycling services and associated communications campaigns, explaining the what, how and why of recycling. More recently however, concerns have been growing over 'flat-lining' recycling performance; in particular in England, and this has been directly linked to cuts in local authority budgets and personnel.
Running campaigns to encourage and educate people to recycle more has been a cornerstone of Alupro's activities for over 25 years. From an almost standing start in 1989, when the recycling rate for aluminium packaging was less than 2%, we have seen the rate increase to 55% in 2015 – and 69% for drink cans. Although our experience is with only one material I believe the principles apply across all recyclables, and results from our recent programmes show that highlighting the recyclability of one material stream has a positive impact on collections of all dry recyclables.
Furthermore we are offering a number of 'off the shelf' campaigns which mean local authorities can use these to encourage and remind residents to recycle, without running to the usual development costs – saving time and money.
Factors that help encourage recycling include:
Clear actions to act upon
Keep information simple and logical. Focus on the 'what, how and why' of recycling. People want to recycle, but they need reassurance that what they are doing is worthwhile. However, they don't want to be blinded by science, so it's important to get the balance and the language right. Avoid 'greenwash' and keep it local – explain what happens to their recyclables after they leave their doorstep, where it goes to be sorted and reprocessed. Explain how they will be put to good use, and what it might become in 'another life'. For metals we have a great story – a drink can could be another drink can in just 60 days, a process that can be repeated endlessly, saving energy and resources every time.
A simple, clear message that really resonates with people. Giving straightforward facts and information to increases engagement, participation and capture rates, and also contributes towards long-term positive behaviour change.
Seasonal campaigns keep the message fresh
Recycling is not just for Christmas or Recycle Week! Themed campaigns help to focus attention at key times in the year, but it's important to keep reminding people to recycle all year round.
Alupro has a range of templates which are free to download, adapt and use to encourage householders to recycle their Valentine's Day chocolate and Easter egg wrappers, summer picnic packaging and Christmas party food trays. The growth of social media means recycling messages can also be tailored around popular events like Euro 2016 and the Olympics to take advantage of current events and catch attention of a wider audience. We produce short information films which are free to link to or embed on websites to help explain how to recycle and what happens to recyclables and in any campaign.
Making 'difficult' items easy to recycle
Campaigns to clarify what can and can't be recycled have helped encourage the recycling of items like aerosols, foil wrappers and household foil. Alupro works with producers and brands to produce campaign materials for local councils and their service providers to dispel some of the confusion about these materials being 'difficult' to recycle.
Our 'Aerofoil' campaign ran for two years and was directly responsible for increasing the number of local authorities collecting foil trays or aerosols, or both, within their existing recycling collections. The number of councils collecting aerosols increased from 87% to 96%, providing almost complete coverage throughout the UK. Meanwhile, foil recycling saw a dramatic increase in collection, from just 35% of councils in 2007 to 86%.
The 'Leave Your Cap On', campaign, in partnership with British Glass, encourages the public to simply screw the caps back on their empty glass bottles before recycling, as the aluminium can be easily extracted during the recycling process. Artwork templates have been created which can be adapted to include logos, and can be stuck to bottle banks, kerbside boxes and used to create vehicle panels.
Educating tomorrow's recyclers
The recycling message can be linked to the school curriculum, to encourage young people to think about re-use of materials and sustainability. For example, the aluminium industry provides schools with free, cross-curricular teaching resources on aluminium and sustainability for 7-14 year olds. The resources, which can be used across several subjects including geography, design and technology (D&T), English and ICT, are hosted on a dedicated website www.learningaluminium.co.uk.
This website also features the aluminium industry's popular schools' resource, the Alu D&T Challenge, which includes a national competition to encourage students to think about the importance of sustainable design. The competition will run again during the 2016 autumn term.
Action that works
If the carrot and stick that is needed to improve recycling is simply clear messaging and regular communication, then I would argue that local authorities need look no further than industry to help engage and encourage residents to recycle. Working together to provide consistent information avoids unnecessary expenditure and can achieve the behaviour change that will make recycling second nature – so we all reap the rewards.
For further information about a range of projects and templates to encourage recycling visit www.alupro.org.uk
Rick Hindley is executive director of the Aluminium Packaging Recycling Organisation, Alupro.