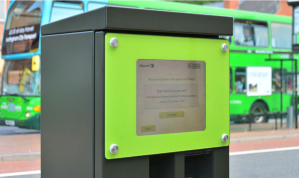 As the Government continues to encourage more of us to switch to public transport the pressure on transport operators has never been greater.
Ailing infrastructure, scheduling issues and rising costs have all become synonymous with the sector and this comes against a backdrop of rapidly changing customer behaviour.
The way we pay for goods and services has seemingly changed forever. Printed tickets are being phased out as a growing number of people switch to booking online and contactless payment devices are omnipresent.
As operators seek to increase operational efficiency and plicate this trend, new technological solutions are being embraced that look set to benefit operators, passengers, government and manufacturers.
SMART Ticketing
SMART ticketing refers to the range of ways public transport users can gain access to services without a traditional paper ticket.
From London's Oyster Card through to Nottingham's Robin Hood Network, many successful systems have been implemented across the UK and more are set to be rolled out in the coming years.
Passenger Benefits
For passengers, no longer needing to queue on a bus or at a station to get a ticket is an obvious advantage but by removing the need to work through complex fare structures the best price becomes easy to identify, saving them money.
With the pliability of today's working patterns, which aren't restricted by the traditional Monday-Friday, 9-5, routine, commuters are also able to purchase flexible season tickets that cater precisely for their needs.
Operator Advantages
For cash-strapped operators, moving to SMART ticketing has the potential to significantly reduce costs. Practically speaking, eliminating ticket printing machines- and with them associated cash management costs- goes some way to restricting overheads but perhaps the biggest benefit derives from the insight gained into passenger travel patterns.
By collating and analysing data and information, operators are capable of devising schedules and timetables that far better reflect passenger demand. Equally, tailoring products to serve passenger travel needs encourages repeat usage of services, especially outside of peak commuter periods.
Government Savings
Local transport authorities and Central government are also in line to reap the benefits from SMART ticketing too. Reductions in government subsidies or grants, such as bus service operators grants (BSOG), will provide a welcome boost to the public coffers, and of course the impact on public health cannot be understated.
With increased awareness of the dangers of air pollution, added to the urgent need to limit traffic congestion, ministers have made little secret of their desire to act. If more of the public turn towards buses and trains, not only will traffic congestion drop but people will be more connected to their places of work, which will stimulate local economic activity.
Manufacturing Boost
Given the growing penetration of SMART Ticketing schemes, manufacturers have been called upon to offer up technology and expertise. Companies such as Castleford-based Cammax have teamed up with a number of local authorities and operators to developing SMART ticketing payment machines, many of which can be found in large cities such as Leeds and Bristol.
These partnerships and contracts have provided a much-needed boost to the firm, and others like it, who are based in areas that have historically struggled to attract and retain highly-skilled employees.
Challenges & The Future
Although SMART ticketing looks set to stay, sustainable success will likely depend on a high amount of continued collaboration between operators, government and manufacturers.
It's also essential that the customer proposition is made clear in order to encourage repeat usage of services. With more economic uncertainty likely to follow, stakeholders must remain steadfast in their dedication to embracing this type of technological solution- only then can we make strides towards achieving a cheaper and more efficient public transport system for all.
Paul Murphy is from Cammax
For more information visit www.cammaxlimited.co.uk or email info@cammaxlimited.co.uk