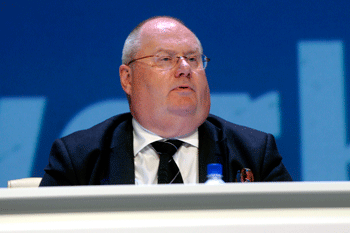 Eric Pickles has revealed plans for a wave of new interventions at beleaguered Tower Hamlets, as the council commits itself to combating electoral fraud.
Former mayor at the east London borough, Lutfur Rahman, was last week found guilty of corrupt practices and told his election victory was void, a judgement he plans to challenge shortly.
The communities secretary has now proposed boosting the intervention powers of government commissioners sent into the town hall last year, while raising the number of officials taking charge of services and inspecting leadership.
Measures would see Tower Hamlets forced to take 'any steps' that are thought necessary to ensure good governance and sound financial management.
(2/3) Am proposing to issue immediate #TowerHamlets Direction today to stop destruction and ensure retention of internal council documents

— Eric Pickles (@EricPickles) April 29, 2015
(3/3) Issuing #TowerHamlets proposed Direction to extend remit of Commissioners across entire council functions to clean up rotten practices

— Eric Pickles (@EricPickles) April 29, 2015
Proposed directions will be enacted for 'as long as necessary' but could be lifted by 31 October 2015 or earlier if appropriate.
Pickles had pledged to 'stamp out' the 'culture of corruption in Tower Hamlets', emphasising the 'immediate priority of the commissioners must be to ensure a free and fair election takes place on 7 May'.
In a statement, Tower Hamlets said: 'The Department for Communities and Local Government has outlined its plans for further intervention. We welcome all constructive engagement with the Government and will respond to this matter within the timetable set out.
'Throughout this process, and the parallel process of the Election Petition hearing and judgement, our priority has continued to be the provision of excellent local services to our residents. This continues to be the case.'
The news came as the borough said it would be 'building on the excellent electoral processes' already in place, setting up enhanced training for officers and police to combat fraud at polling stations and committing to strong partnership working to ensure any complaints during the election are 'swiftly investigated and resolved'.