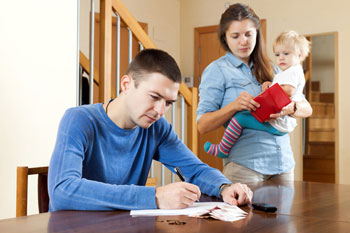 Working parents are unable to meet basic family costs due to the combination of inflation and the freeze on benefits, report warns.
A new report from Child Poverty Action Group (CPAG) has revealed parents working full time on the 'national living wage' (NLW) are 'significantly short' of the income needed to give children an acceptable minimum living standard.
The report, written by Loughborough University's Donald Hirsch, warned families in which both parents work full time for the 'national living wage' (NLW) are 13% (or £59 per week) short of what they need to give their children a minimum living standard.
Lone parents working full time on the same wage are 18% short (or £68 per week)—double the shortfall an equivalent lone parent family faced in 2012.
The report noted this 'gap' would increase due to the combined pressure brought by inflation and the freeze on benefits.
The freeze on working age benefits will force parents to find between an additional 6% and 9% of children's costs in 2019 compared to 2012, and while benefits will have risen by 3% between 2012 and 2019, prices are projected to have risen by 12%.
'Our research shows that the benefit freeze will mean that children will be the main losers with the return of inflation,' said chief executive of CPAG, Alison Garnham.
'The cost of raising children is rising but for the first time in decades support for families is not keeping pace.
'The result is a yawning gap between what ordinary families need for a no-frills living standard and what they actually have. And the shortfall will grow if inflation rises further, with damaging consequences for children.
'With the return of inflation the benefits freeze has become toxic for struggling families. Rather than prioritising tax cuts which help the better off, the Chancellor should use the Autumn Budget to invest in helping families with children.
'Ending the benefits freeze should be the first step he takes to re-balance the finances of ordinary families.'