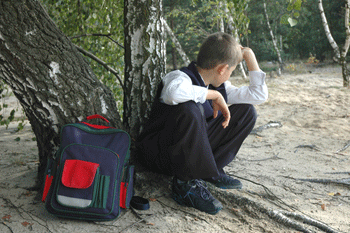 More than 55,000 pupils have left school for unexplained reasons over the last decade, new research has revealed.
The findings, published by the Education Policy Institute, improves on estimates of the potential size of so-called 'off-rolling' in the school system.
'Off-rolling' is the practice of informally removing pupils in order, for example, to boost GCSE results.
An estimated one in 12 pupils (8.1%) from the cohort that finished year 11 in 2017 were removed from school rolls for reasons that are not accounted for by family decisions.
According to the EPI, this amounts to a total of over 55,000 unexplained pupil exits, and has grown from previous years – both in terms of pupil numbers and proportionality.
The research, which was sponsored by the National Education Union, also revealed a small number of schools have particularly high rates of pupil exits.
Just 6% of secondary schools in England (330 schools) account for almost a quarter (23%) of the total number of unexplained moves in the 2017 pupil cohort.
These schools have removed the equivalent of an entire classroom of children from a single year group between 2012 to 2017.
The EPI discovered that pupils with certain characteristics are disproportionately represented among those exiting school rolls.
Around a third of the pupils were in the social care system, one in seven were disadvantaged pupils, and one in eight black pupils experience unexplained school moves.
Commenting on the new research, Jo Hutchinson, report author and director of Social Mobility and Vulnerable Learners at the Education Policy Institute, said: 'This research provides important evidence on unexplained pupil exits in the school system, following reports of children being removed by schools for reasons that are not in the pupil's best interests.
'For the first time, we begin to see the full scale of this problem, having stripped away cases where family decisions have led to school moves.'
David Laws, executive chairman of the Education Policy Institute, said: 'The size of unexplained pupil moves is disturbing and will raise concerns about whether some schools are "off rolling" pupils.
'We need to look particularly closely at the 6% of schools which account for almost a quarter of unexplained moves.
'In a few months' time we will publish figures showing the scale of this issue by school group, to allow for greater scrutiny over what is happening in our schools.'