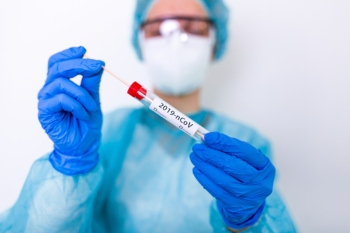 Less than a quarter of social care workers have been able to access testing for Covid-19, a new survey has revealed.
The National Care Forum found that of the 6,469 staff members identified as being a priority for testing due to having symptoms of the virus, only 22% were actually tested.
The survey also showed that only 2% of these staff were able to receive a test at drive-through centres via the employer portal. There were no home tests available through the employer portal at all, according to the survey.
The research found the self-referral portal was more successful, with 583 staff managing to get a test via this route.
Local testing systems were the most successful, enabling 715 staff members to access testing. However, the National Care Forum said they remain 'hugely variable and inconsistent' across localities.
Vic Rayner, executive director of the National Care Forum said: 'The government's promise to provide tests for all staff is exposed as pure words. Social care needs to be systematically prioritised in each and every testing system, in order for government to live up to its commitment.
'We are calling for the prioritisation of social care employers through the Getting Tested Portal to ensure they have a strategic and targeted prioritization of all their employees – regardless of symptoms as previously promised by the government and for social care workers to be given priority status on the self-referral portal.'