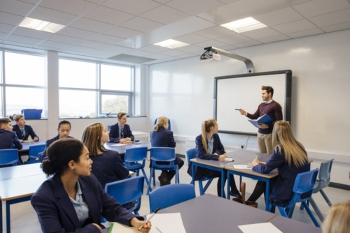 A third of head teachers are using funding meant to support disadvantaged pupils to plug general budget gaps, a new survey has revealed.
The survey, conducted by the Sutton Trust, found 34% of heads say the pupil premium is being used to plug general gaps in their school's budget, up from 23% in 2019.
However, the poll did reveal an increase in the use of evidence in deciding how to spend this funding. Almost four-fifths (79%) of all senior leaders said they considered research evidence when deciding how to spend their pupil premium funding.
Almost one in five (17%) of secondary heads report that one-to-one and small group tuition is their priority for pupil premium spending this school year, while heads in primary schools said early intervention scheme are the top priority.
Sir Peter Lampl, founder and chairman of the Sutton Trust and chairman of the Education Endowment Foundation, said: 'At a time when schools are facing monumental challenges, the additional funding they get through the pupil premium has never been more important.
'So it's concerning to see that a third of heads are using this funding to plug general budget gaps, likely because they face additional costs due to the pandemic. The priority of the education recovery plan must be to provide enough resources for disadvantaged pupils, so that they can begin to recover from the massive disruption of the last year.'
The charities that a change to the reporting date for the pupil premium - which means schools report the number of eligible pupils in October rather than January - will see the average primary school set to lose £6,000.
They are calling on the Government to reverse this decision and for significant financial support for disadvantaged pupils to be prioritised in the education recovery plan.