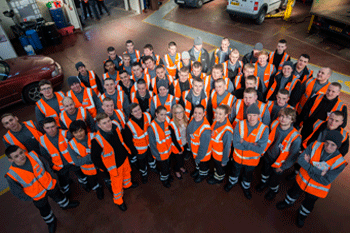 The Government's drive on apprenticeships is failing to deliver for young people, according to commission.
A report published today by the Social Mobility and Child Poverty Commission shows the number of young people starting apprenticeships has changed very little since 2010.
Almost all the recent increase in apprenticeship starts, it found, related to people over the age of 24.
It also learnt youth apprenticeships typically do not represent a step up. Most A-level-age apprentices do GCSE-level apprenticeships and 97% of university-age apprentices do apprenticeships at A-level equivalent or lower.
Most youth apprenticeships, the commission also found, are in areas-- health and social care and business administration, for example--characterized by low pay and poor progression.
The commission called on the government to increase the number of young people doing higher apprenticeships to 30,000 by 2020, compared to the present 4,200 (19- to 24-year-olds).
It also recommended the launching of a UCAS-style apprenticeship gateway, which could give young people more information on the apprenticeships available to them.
Rt. Hon. Alan Milburn, chair of the commission, welcomed the Government's attempts to increase the number of apprenticeships, but said it 'isn't delivering' for young people.
'The government is committed to giving all young people a chance to make something of their lives, but the current drive to increase the number of apprenticeships isn't delivering for people under the age of 24,' he said.
'The number of young apprentices,' he continued, 'has flat-lined since 2010 and many of these apprenticeships don't offer young people a foundation they can build on.
'The government needs to increase the quality of apprenticeships on offer to young people and make sure that every apprenticeship offers a genuine route to success.'