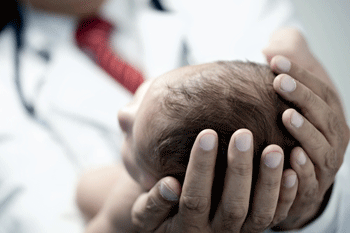 A new study has revealed a dramatic increase over the past decade in the number of newborn babies being removed from their parents and taken into care.
Between 2007/8 and 2016/17, 16,849 babies under one week old were subjects of local authority care proceedings in England, according to the Centre for Child and Family Justice Research at Lancaster University.
The research, which was carried out with the Nuffield Family Justice Observatory, found that in 2007/8, care proceedings were issued with respect to 1,039 newborns.
This figure had more than doubled by 2016/17, with the figure increasing to 2,447 or 42% of all infant cases.
Lancaster University's study, which is the first ever national study of babies under one week old in the family justice system in England, also found a stark regional divide.
Yorkshire and Humber and the North West recorded the highest rates of newborn babies coming into care during this time period. Overall, the rates in these areas were above 30 cases of care proceedings concerning newborns per 10,000 live births in the general population.
In contrast, London and the South East recorded the lowest overall rates at 18 per 10,000 and 20 per 10,000, respectively.
The report's authors argue that the new findings indicate far more attention needs to be paid to court intervention at birth. Currently, national statutory practice guidance 'makes scant reference' to either pre-birth assessment or removals at birth, they say.
Professor Karen Broadhurst, from Lancaster University, who is leading the development team for the Nuffield Family Justice Observatory, stated: 'Although there is considerable emphasis on very young babies within the child protection system and the courts, statistics published by the Department for Education simply groups all infants together under the category 'aged less than one year.
'The new findings we present are a first step in building an empirical evidence base specific to newborn babies. And although there will be circumstances where the State has to intervene very early in a baby's life, we want to ensure that professional practice is as sensitive as possible to women's vulnerability following the delivery of her baby.'
Rob Street, director of justice at the Nuffield Foundation commented: 'For the first time, those working in the family justice system will have detailed analysis of the prevalence of newborn babies subject to care proceedings, and how this is changing over time and in different areas of the country.'