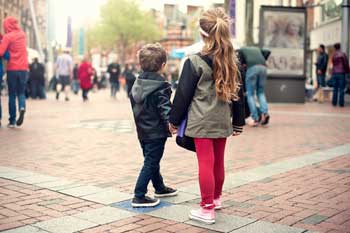 The next Prime Minister should put the billions they have promised for income and corporation tax cuts towards 'mending broken childhoods', says the Children's Commissioner.
The Institute for Fiscal Studies has estimated that Boris Johnson's income tax plans and Jeremy Hunt's corporation tax plans will cost £9bn and £13bn a year respectively.
Anne Longfield, the Children's Commissioner for England, argues that instead the next PM should invest up to £10bn a year as part of a ten-year plan to rebuild services for vulnerable children and end high-cost, crisis-led provision.
The commissioner made the announcement at the launch of the third annual Vulnerability Report which estimates there are 2.3 million children in England growing up with a vulnerable family background.
This includes those with parents with mental illnesses, addiction problems or domestic violence.
Of these children, 1.6 million receive either patchy or no support at all, including 830,000 who are 'invisible' to services.
Around 128,000 children from a vulnerable family background are receiving the most intensive forms of statutory support, such as being in care or on a child protection plan.
The Vulnerability Report has been published alongside new data on spending on vulnerable children which shows a system that is spending increasingly high amounts on a very small number of children with acute needs.
A quarter (25%) of the amount councils spend on children now goes on the 1.1% of children who need acute and specialist services, such as children in care.
In one local authority looked at by the Children's Commissioner, 10 children are costing 20% of the entire children's services budget.
In her speech launching the report, Anne Longfield said: 'We know enough about the devastating impact on childhood and on lifetime prospects of a poor start.
'Tackling the scale of the problem will require strong leadership from centraI Government, capital investment in institutions to help our most vulnerable children, a 10-20 year investment in family and child support, commitments and targets to identify and support children's mental health needs and those of their parents.
'I want to challenge the contenders for the Conservative leadership and the keys to No 10 what they intend to do about this. I've heard them talk about runways, immigration, Islamophobia, even model buses – but not about children. They should.
'Anybody's child can need a SEND assessment; or some mental health support; or speech and language therapy. And anybody's child can meet, on the streets or in the park, a marginalised, angry, excluded teenager carrying a knife.'
'I've heard contenders for the Conservative leadership pledge corporation tax cuts amounting to £13bn, higher NI thresholds costing £11bn, a raised threshold for the higher income tax rate which would cost £9bn,' she continued.
'Labour's promise to abolish tuition fees will cost around £8bn – but where is the promise to the children who might hope that one day they too will go to university? Without the kind of help I'm proposing today, millions of them have very little chance of getting there.'
A Government spokesperson commented: 'It is a measure of a strong society how we support the most vulnerable people in this country. We are making record investments in education and in children's services to help improve outcomes and support young people to overcome the challenges they face.
'This includes action across Government on children's mental health, making sure excluded pupils receive a good education, tackling the root causes of violent crime, supporting parents with early learning at home, and providing tailored support for children with special educational needs and disabilities.
'We know the compounding impact disadvantages and vulnerabilities have on children's outcomes but also recognise council and school budgets are under pressure. That's why we are providing £2.4bn each year to support disadvantaged pupils through the pupil premium and gathering as much evidence as possible on what works to support those most in need ahead of the Spending Review.'