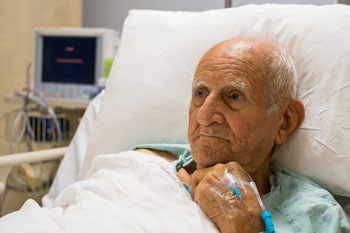 The NHS has announced that it intends to work with local authorities to reduce the number of long staying patients by around a quarter in preparation for the winter 'surge'.
Speaking at the annual NHS Confederation conference at Manchester Central yesterday Simon Stevens and Ian Dalton, the chief executives of NHS England and NHS Improvement, set out their plans to free up 4,000 beds before winter.
The number of delayed transfers of care (DTOCs) fell to 4,880 in January, 1,780 fewer than the baseline month of February 2017.
However, the underfunded health and social care system struggled to cope last winter with what Mr Stevens and Mr Dalton described as 'a perfect storm of bad weather, flu and stomach bugs' as well as record A&E attendances and emergency admissions.
'Over this past year hospitals and local councils have successfully worked together and have turned the corner on delays in patients being discharged,' said Mr Stevens.
'Now they need to go further in order to ensure patients are treated with dignity and looked after in the right setting for them.'
Shorter stays will benefit patients who would otherwise be stuck in hospital when they are well enough to leave. They will also free up beds for those who are sicker.
Many older people deteriorate while in hospital. It is estimated that a stay of more than 10 days leads to 10 years' muscle ageing for people most at risk.
'No one wants patients to stay in hospital longer than they have to, or for the health of patients to deteriorate in the very place that is supposed to be making them better,' said Mr Dalton.
'But this is happening all too often and we have to work together to change it. Every day in hospital is a precious day away from normal life.
'By setting this national ambition and working with trusts and local systems to deliver it, we will help more patients to recover safely and as quickly as possible, while ensuring that hospital resources are used for those who need them most.'
Responding to the announcement, Cllr Izzi Seccombe, chairman of the Local Government Association's (LGA) Community Wellbeing Board, said: 'We support the aim of reducing unnecessary time spent in hospital as long lengths of stay cause the health and mobility of older people to get worse.
'We want people to get the right care and support in the right place, which usually means in their own homes.
'With the help of some additional funding in 2017/18, councils worked hard with their partners to deliver a significant reduction in delayed transfers of care attributable to social care.
'Councils will wish to build on this to reduce overall length of stay in hospital. However, this will need sufficient continued funding, not only for social care but also for other NHS services outside hospital.'
Glen Garrod, president of the Association of Directors of Adult Social Services (ADASS), welcomed the announcement.
'People need health care in the right place and at the right time. Without sufficient social care, together with GPs and district nurses, too many will end up in hospital,' he said.
'That's why it's essential any long-term plans for the future of health are produced alongside long-term plans for the future of social care as well, and with the social care sector.'