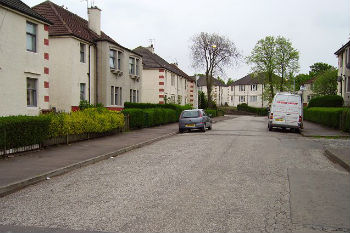 Ferguslie Park in Paisley has been named as the most deprived area in Scotland for the second time running.
The area has topped the new Scottish Index of Multiple Deprivation (SIMD), which rates nearly 7,000 small areas against measures such as housing, income and employment levels.
The table also shows that eleven council areas in Scotland have a larger share of deprivation compared to four years ago, with both West Dunbartonshire and Midlothian experiencing the largest rises.
Glasgow City Council has six of the ten most deprived areas in Scotland, with nearly half of its data zones in the 20% most deprived areas in Scotland.
Ten council areas now have a smaller share of deprivation, with both Dundee City and Invercylde councils seeing the largest decrease in their local share.
However, leader of Renfrewshire Council said the table does not reflect the full story and a pioneering anti-poverty programme started last year is already making a difference to the area.
Mark Macmillan said: 'The council has adopted an innovative approach to tackling poverty, recognised as leading the way in Scotland - and the SIMD stats are based on data from last year which does not fully capture the impact of that.
'The figures show the overall picture for Renfrewshire has improved and we believe we are making a difference on the ground.'
Communities secretary, Angela Constance, said the figures reveal the 'long-term challenge of tackling poverty.
She said: 'In the face of continuing UK Government welfare cuts, an austerity agenda and attempts to take Scotland out of Europe, this will continue to be a long-term challenge.
'We are spending £100m protecting people against the worst effects of welfare reform and every pound spent on mitigation measures is a pound less that can be spent on lifting people out of poverty. But while UK Government policies are making matters worse for people on low incomes, we will continue to do all we can to tackle poverty and inequality.'
SIMD will be used by local authorities to ensure funding and services are used to tackle pockets of multiple deprivation.
Photo: © Richard Webb