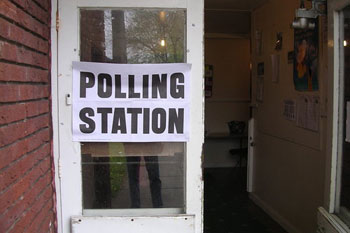 A new study has revealed that up to 9.4 million people are not registered properly to vote, leading to calls to reform the system.
The research, published by the Electoral Commission, found that 9.4 million people are not registered at their correct address.
Another 5.6 million people are registered incorrectly, according to the study.
Only 71% of young people aged 18-34 are correctly registered to vote, compared to 94% of people aged 65 and over, the research found.
The Commission is calling for the electoral registration process to be updated to ensure as many people as possible are registered.
Sir John Holmes, chair of the Commission said: 'Better use of public data could hold the key to modernising the electoral registration process. We know that when people move house, registering to vote may not be a priority.
'Giving electoral administrators access to reliable and trusted public data would help them more easily identify people who have moved and may be eligible to register to vote. Being able to change your electoral registration details whilst, for example, updating your driving licence could be another way of making it easier for people to ensure they are registered.'
The Association of Electoral Administrators welcomed the report and agreed the electoral registration requires modernisation.
A statement said: 'More needs to be done to give EROs access to data to improve the completeness and accuracy of the register. At an AEA meeting of 500 electoral administrators earlier this month, 65% said they were struggling to access data sources.
'Better access to local data such as council tax records, cooperation from universities to help register students and information exchanges with national bodies such as the DVLA, HMRC, Passport Office and Department of Education would help to boost the numbers of potential electors being invited to register to vote.'