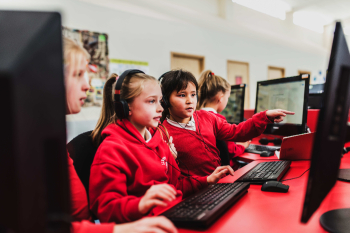 The shortage of pupil places is often presented as a ticking time bomb, with population changes and poor school stock putting huge pressures on the system.
It's not just about increasing numbers of children but also changes to where families are living, leaving some schools heavily oversubscribed whilst others face closure. Few would dispute the assessment of The National Association for Headteachers which has said that the need to replace, update and modernise the schools' estate is "hugely challenging."
Against this reality, it's also clear that the issues can be addressed and progress made. One of the biggest initiatives is in Wales, where the 21st Century Schools and Education Programme is delivering a £1.4 billion investment in education throughout all 22 local authority areas. The outputs include the rebuild and refurbishment of over 150 schools and colleges. The first phase of its work will complete in March 2019 and a follow up wave of investment is currently under development.
As one of the UK's most experienced designers and builders in education, Morgan Sindall has been very much involved in the 21st Century Schools programme. We have worked on over 15 individual projects to date and have been able to showcase our revolutionary new MySchool Wales concept. It has been developed and refined by Morgan Sindall through an investment of over £1 million in R&D and over many years of working in primary and secondary education.
In the simplest terms MySchool is a kit of parts. Local authorities have the freedom to choose from permutations of layout, materials and specification. Each school is bespoke but is still delivered in a way that achieves savings in time and cost. Aside from the flexibility to have a layout that suits the needs of any given school, there are significant reductions in design fees and capital cost because components have already been designed. The gains include speeded up delivery of the school from commissioning to completion. The finished buildings have improved natural light, better indoor air quality and acoustics, and more comfortable temperatures. There are also significant benefits in reduced running costs and energy saving.
To date we have built batches of three MySchools for Cardiff County Council and three for Rhondda Cynon Taf County Borough Council, and one for both Newport City Council and Blaenau Gwent County Borough Council.
What's been important for the Welsh government, the local authorities involved and the framework provider SEWSCAP, which has governed the procurement of these projects, is ensuring that is not just about upgrading the schools' estate. The whole 21st Century Schools programme has been driven and shaped by the requirement to put value back into communities.
Morgan Sindall has worked very hard to ensure these benefits do indeed accrue. We support small and medium enterprises, drive local employment opportunities and training. We have also used our projects as a learning tool to inspire the next generation to consider construction as a career. On all our projects in Wales we have exceeded training targets though the delivery of work placements, apprenticeships, training days, supporting ex forces and criminal offenders back into work and up-skilling local enterprise.
The desire to make a positive difference to people's lives is what motivates many to get involved with local government in the first place. It's about spending time and resources on things that will benefit lives and making decisions that serve the greater good. As a business, Morgan Sindall understands and respects that commitment. The end game is sustainable communities – not just providing a new school, but providing opportunities to young people, local enterprise and the unemployed/disadvantaged.
As part of our Employment and Skills Pledge, for instance, we have committed to achieving a number of New Entrant Trainee and Apprenticeship opportunities, equivalent to a minimum of 52 weeks of New Entrant training and employment per £1 million of contract value which will be supported directly by us and through our supply chain partners.
Tom Davies, Senior Framework Manager, Morgan Sindall