An 80-year-old man lives at home alone. He has mobility difficulties, his family live far away, and there is no bus stop nearby. He feels acutely alone and listens to the radio for some semblance of company.
He finds out about a local organisation which offers to come to his door and take him out with like-minded people – be it to a luncheon club or out for some fresh air at the seaside with others. He starts to build his confidence and go out more regularly; he no longer feels so cut off from the world. He enjoys chats with the driver and laughs with his new friends; he realises that he is not alone and that there are others in the same boat as he. This is a service which doesn't cost him the earth but it is worth so much: he feels alive and there are people in his life once more.
How can you put a price on that? On creating social connections, on fostering wellbeing and independence, and tackling crippling loneliness and isolation? Do you even need to put a price on such value?
The need to make our case
The answer is yes – absolutely, and never more so than now. Anna Whitty, chief executive of ECT Charity explains: 'Charities have long been recounting stories of their charitable activities. At a past Community Transport Association conference, Stephen Fidler, then head of buses and taxis at the Department for Transport, pressed home the importance of this. He noted that our stories were very powerful and really showed the difference we make in our communities.'
The cuts in public sector funding have been especially challenging for the community transport (CT) sector – despite CT being able to provide both value to communities and savings to the public purse. The Department for Transport's (DfT) move to revise the s19 and s22 permit operating system has caused additional uncertainty.
Indeed, the need for the CT sector to develop a methodology that can value the outcomes of its charitable services has never been more critical – to indicate overall worth but moreover to justify the continuation of any available funding. CT is an investment that produces a return, and until recently, there hasn't been a universal agreement about what that return is, or how it might be measured.
Everyone needs community transport but no one wants to pay for it,' Anna Whitty notes. 'Public spending cuts mean that the first thing to go at local authorities is the discretionary transport – it is deemed too expensive. On top of this, the disappearance of support mechanisms such as lunch clubs and people being cared for in their home, makes the situation worse for those unable to leave their home."
Transport is in danger of remaining the unrecognised, unheralded catalyst that makes so many other things happen – proper provisioning always seems to slip through the bureaucratic cracks. CT providers have been emphasising this message for years – for them it is a continuing struggle to keep afloat.
ECT Charity, working with colleagues, has taken steps to remedy this issue.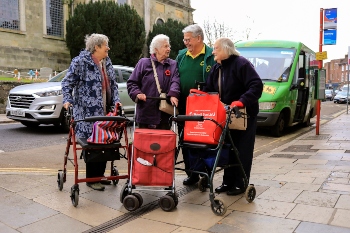 Community transport: worth its weight in savings
How can you put a price on the benefit that CT provides? Almost everyone agrees that CT provides significant social value – but the devil is in the detail: how can it be measured, and therefore 'proved'?
The first step is to recognise that CT is a lifeline for vulnerable, immobile or older members of the community who cannot use conventional public transport. Without CT, these individuals would need additional social and health care, at a considerable cost to the public purse.
For instance, ECT Charity's report Why Community Transport Matters outlines research showing that loneliness and isolation can:
cause depression, disrupted sleep, memory loss, stress and anxiety;
lead to greater pressure on the NHS and carers, as well as a greater need for social care; and
cost between £1.3bn and £2.9bn a year via costs such as earlier admittance into residential or nursing care, increased use of home and day care services, higher rates of non-elective hospital admissions, missed hospital appointments, increased proportion of GP home visits and increased A&E visits.
CT is able to save local authorities and the wider government many of these costs, as well as reinforce a sense of community for the individual CT user that can't yet be readily measured.
'The big surprise to me is what we refer to as our frequent flyers – those we take to lunch clubs, fellowship, social events and outings regularly,' comments David Muggeridge, manager of Wyre Forest Community Transport. 'In the scheme of things, they are a small percentage of our clients, however, providing them with transport makes a significant impact on reducing social isolation and loneliness – one of the greatest public health challenges of our time.'
Unlike many modes of transport, CT is very well placed to illustrate the social outcomes of its services. CT operators routinely collect data on every trip, and the pre-booked nature of these journeys mean that useful data is captured (such as a profile of each passenger, where they travelled from and to, as well as the purpose of their trips). This allows an unprecedented level of precision when reporting journey outcomes, and this in turn means that any assessment of CT social value can be grounded and realistic.
Introducing the Social Value Toolkit
'CT operators have been tackling loneliness and isolation for years – before these issues became fashionable,' Anna Whitty says. 'The negative effects of loneliness and isolation are exacerbated by not being able to leave the house – it's a vicious cycle and an issue I am very passionate about. At ECT Charity, we work hard to illustrate the impact of community transport and putting a pound sign on the value we create makes our case even more compelling.'
In order to calculate this social value, ECT Charity has developed a unique methodology and toolkit to enable CT operators to assign a monetary value to the impact they have in their communities. Launched in 2018, the CT Social Value Toolkit (Toolkit) uses the theory of change of traditional community transport activities (i.e. the relationship between inputs, outputs, outcomes and impacts) – in other words, the story of how community transport makes a difference in society. A key issue that the Toolkit seeks to remedy is the fact that not everybody understands the wider value of CT.
Social impact reporting has been embraced by the CT sector for years, but monetary valuation has not been attempted. In 2017, for example, four CT operators (Barnet, Cuckmere, Bossley & Much Wenlock, and Tavistock) were the subject of a report by NatCen Social Research which highlighted a range of social impacts without any monetised values. Hackney CT also produces an annual impact report which does not include '£' values.
'Our Toolkit provides a means of measuring and reporting the social value of what we do,' says Anna Whitty. 'This equates to so much more than merely communicating our social impact.'
Furthermore, the Toolkit is particularly useful where CT services are integrated and funding is mixed – a scenario in which calculating Social Return on Investment (SROI) is not possible.
Other CT operators have also begun to see the benefits of using the Toolkit. Jenny Bright, manager of Somerset-based Green Community Travel Ltd, who has deployed the Toolkit, explains: 'It's all well and good telling people what we do, but being able to put it into figures – for example, the amount of money we have saved the NHS as a result of us getting patients to their appointments – makes communicating our impact so much easier. The Toolkit has proved particularly useful in effectively communicating the contribution of our volunteers.'
The role of the valuation and the presentation of an evidence base is manifold and serves not only to validate financial value: 'The Toolkit provides a human element – and there are things you don't think about unless you work at a CT,' says Jenny. 'It is incredible to see what we do – all of these volunteers, all of this hard work.'
'Our social value is £500,000. It is nice to tell drivers, paid staff and volunteers, and during challenging moments, it has boosted morale and translated the hard work of our volunteers into monetary value which has boosted our sustainability."
For a busy CT operator, the Toolkit provides a ready-made template that can be populated with trip data. By applying a number of valuation metrics to this data, the Toolkit will calculate a financial valuation for those types of trips. The value of volunteer hours is also captured. This means that all CT operators using the Toolkit can be measured in a consistent way, equally subject to the robust protocols that the Toolkit incorporates to safeguard against inflated or exaggerated valuation. This is vital to the credibility of the Toolkit and ECT Charity has gone to great pains to create a universal system for all kinds of CT operator, large or small.
Remember the Social Value Act?
Social value has permeated government thinking in recent times. The Public Services (Social Value) Act 2012 created an expectation that commissioners of public sector services would consider securing economic, social or environmental benefits when buying services above a certain threshold. On the face of it, this should have benefited CT operators, whose services both directly and indirectly provide the very aspects of value being sought. However, the absence of a consistent means of quantifying the value has seen the Act bring little joy to the sector.
It is partly the absence of a valuation system at commissioning level that has spurred the CT sector to create its own approach. The Toolkit enables commissioners, funders and supporters to gain a much clearer understanding of what a financial investment into CT will do, and how it impacts on a wider range of stakeholders. Commissioners routinely requiring a social valuation report as part of a bidding process is still some way off, but the CT sector (thanks in part to ECT Charity's forward-thinking) is able to pre-empt this. If social valuation can be embedded in the annual reporting process, this would enable CT operators to be stronger, more comprehensively appreciated and better able to withstand external scrutiny. ECT Charity is currently developing a template Social Value Statement to make reporting for CT operators even easier.
Jason Donaghy, manager of Fermanagh CT in Enniskillen, places the Toolkit findings at the heart of his annual report. He comments: 'For every £1 invested we can demonstrate that we generate £2.50 of social value to the local community. It is a very powerful tool and that needs communicating to people who don't get it.'
'We need to further develop our understanding of the uniqueness of community transport… There are people driving as part of our team that see themselves just as drivers. I say to them: "Do you realise the difference you are making to the lives of those you transport?" The transport element of CT is one part of a much more powerful contribution multiplier effect in terms of the health, wellbeing, accessibility, inclusion and connectivity of the people and communities we serve.'
Moving forwards as a sector
The CT sector in the UK is very fragmented and diverse and so it will be some time before all operators embrace the concept of social valuation, let alone produce reports – often due to capacity and capability constraints. The Toolkit will hopefully change that, providing a tailor-made system that has been independently verified by auditors Buzzacott and adopted by 44 UK CT operations at time of writing.
Further developments of the Toolkit by ECT Charity are also planned. The valuation metrics require periodic updates and successive versions will include improvements and refinements. ECT Charity showcased the Toolkit at the Community Transport Association event in Manchester on 12 November.
The time has never been better for CT providers to embrace social value reporting, to communicate to external stakeholders in a way that illustrates their worth and to give an unequivocal message that CT services result in actual financial benefit for local communities and public sector agencies.
Find out more visit ectcharity.co.uk/projects/social-value-toolkit.
For further information, please contact Anna Whitty on 020 8813 3210 or socialvalue@ectcharity.co.uk
This article was provided by ECT Charity