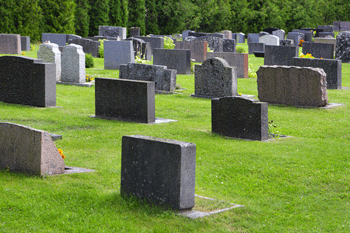 Burial and cremation services could be overwhelmed within weeks due to the coronavirus outbreak, academics have warned.
Research published by the University of Huddersfield has found a number of flaws in the continuity plans drawn up by local authorities in the event of a pandemic.
It warns burial and cremation services could be beyond capacity four or five weeks into the outbreak.
It also warns limited cemetery and body storage space will also be a major problem, and may lead to the need for mass graves.
The authors - Dr Julia Meaton, Dr Anna Williams and researcher Helen-Marie Kruger - concluded: 'The focus has been on the operational implications for a local authority service but the issues this paper raises are primarily about people and how we, as a society, treat our citizens in life and in death. In a pandemic situation there is likely to be a necessary change to the 'business as usual' death and bereavement management services.
'How humanely these are managed is hugely important for those affected at the time of crisis and the humanity of the government's response will reflect the nature and values of our society, and will be judged accordingly.'
The report says technological innovations such as an online death registration service could speed up the process. It also recommends employees are ring-fenced to ensure their availability will be guaranteed.
The research was originally carried out last year, examining the potential impact of a flu pandemic but has been updated to reflect the current health crisis.