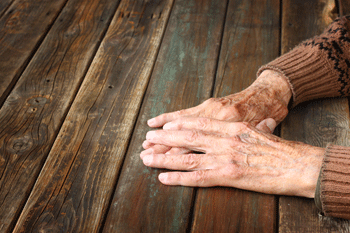 A cross-party group of MPs have called on the Government to tackle malnutrition in the elderly to save the NHS and social care over £15bn a year.
The All-Party Parliamentary Group (APPG) on hunger warns over a million older people are likely to be malnourished or at risk of malnutrition due to loneliness and isolation.
The APPG's report calculates this costs the country's health and social care services £11.9bn a year - a sum likely to increase to £13bn in 2020 and then to £15.7bn in 2030.
Older people who suffer a setback, such as the loss of community transport or a bereavement, are often left isolated and unable to easily access food. Loneliness can also mean people lose the motivation to care for themselves.
The high financial cost of malnourishment calculated by the APPG is because malnourished people are more vulnerable to accidents and ill health, and take longer to heal.
'Hidden beneath the radar, there are malnourished older people in this country spending two or three months withering away in their own homes, with some entering hospital weighing five and a half stone with an infection, or following a fall, which keeps them there for several tortuous days, if not weeks,' said Fank Field, the committee chair.
'The elimination of malnutrition amongst older people is urgently required for the sake of the NHS, and social care services, but above all for purposes of humaneness. Hence our central recommendation in this report, for a series of innovative pilot schemes that feed and care for older people.'
Among the key recommendations in the APPG's report, is a call for screening tools to be used at all levels of care. This would allow carers to identify and treat older people who are suffering from malnutrition.
However, the Association of Directors of Adult Social Services (ADASS) warns against imposing extra duties on an already overstretched care sector.
'Imposing a further duty on social care providers is the wrong approach,' said Margaret Willcox, President of ADASS.
'The way forward is to deliver more personalised care, and that requires more resources, not more rules.
'Placing more duties on already-pressured social care staff to tackle one issue, rather than providing the funding needed to address the underlying care crisis, will hinder rather than help.'
Highlighting the fact that the social care sector is facing a £2bn funding shortfall by 2020, Ms Willcox added: 'If new duties are imposed, then as a bare minimum social care providers must be given adequate funding to ensure they are effectively carried out, otherwise sorting out one human tragedy will create another, as resources are pushed from pillar to post.'
The APPG report, which is entitled Hidden hunger and malnutrition in the elderly, proposes one way to deal with the funding question would be to withdraw Winter fuel payments from the richest pensioners.
This extra cash could then be invested in 'innovative community projects' which are focused on tackling malnutrition among the elderly.