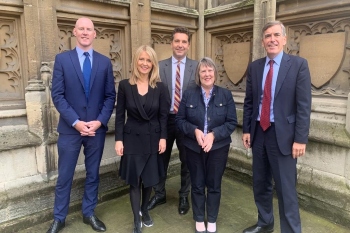 MPs have warned that proposals to abolish or merge parish and local councils across Cheshire East could damage community spirit.
Five Conservative MPs have expressed concern over Cheshire East Council's Community Governance Review.
Fiona Bruce, Esther McVey, Kieran Mullan, David Rutley and Edward Timpson said larger town councils would 'deeply damage' community spirit and the identities of local villages.
They also argued the 'complex impacts' of the proposals have not been explained in plain English to residents.
In a joint statement, the MPs said: 'The plans in Cheshire East Council's Community Governance Review are causing widespread concern in local rural communities and villages across the Borough of Cheshire East.
'We would urge as many local residents as possible to take part in the consultation and set out their views. If you have any questions, please contact your local MP.
'It's time to show active support for our rural communities, our local identities, and our county's heritage over the crucial days ahead.'
A spokesperson for Cheshire East Council said: 'As a public consultation is ongoing, it would not be appropriate to comment on individual representations currently under consideration. The views expressed by the Members of Parliament representing constituencies within Cheshire East Borough are noted and will be considered as part of the consultation process.
'This public consultation provides people and stakeholder bodies with an opportunity to make the case for alternative proposals to those now recommended. We urge people and stakeholders to take part in this process and share their views.'