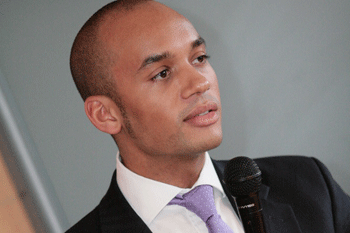 City regions should be allowed to set their own quotas for immigration to help councils address specific economic and cultural needs, MPs have said today.
A new report by the All Party Parliamentary Group on Social Integration said a regional immigration system in the wake of Brexit would give the public the confidence the immigration system was working for their local area.
It argues Canadian-style region-specific visas would also give local politicians more of an incentive to make the case for immigration in their area.
The report also calls for councils to set up local integration plans, and for immigrants to learn English before coming to the live in the UK or to be required to learn the language when they arrive.
Chuka Umunna, chair of the APPG on Social Integration, said: 'We now need a meaningful integration programme which works for all parts of the UK and an immigration policy which allows all to celebrate and look beyond our differences - a middle way between the laissez-faire multiculturalism favoured by successive British governments and the assimilationist politics of the French Burkini ban.
'In the wake of the Brexit vote, we must develop a new approach to immigration which works for everyone in our country and helps us rebuild a divided nation - a system with integration at its heart.'