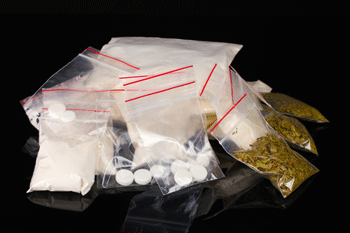 MPs have called for a 'radical change' in approach to UK drugs policy as a report warns the rate of drug-related deaths has risen to 'the scale of a public health emergency'.
A new report from the Health and Social Care Committee argued that the current criminal justice approach to drugs policy is 'clearly failing' because the UK has some of the highest drug death rates in Europe, particularly in Scotland.
The committee recommended instead that a health focused and harm reduction approach would benefit those who are using drugs and reduce harm to, and the costs for, their wider communities.
'Avoidable drug deaths are increasing year on year across the UK but there has been a failure to act on the evidence. Scotland is particularly hard hit with the highest death rate in Europe,' said Dr Sarah Wollaston, chair of the Health and Social Care Committee.
'A holistic approach centred on improving the health of and reducing the harm faced by drug users, as well as increasing the treatment available, must be a priority going forward.'
The committee called on the Government to consult on the decriminalisation of drug possession for personal use from a criminal offence to a civil matter, but stressed this would only be effective if coupled with increased access to harm reduction, support and treatment services for drug addiction.
It also said that responsibility for drugs policy should move from the Home Office to the Department of Health and Social Care.
'The Government should learn lessons from the international experience, including places like Portugal and Frankfurt,' said Dr Wollaston.
'It should consult on the decriminalisation of drug possession for personal use from a criminal offence to a civil matter. Decriminalisation alone would not be sufficient. There needs to be a radical upgrade in treatment and holistic care for those who are dependent on drugs and this should begin without delay.'